Uninor says it is optimistic about solution to 2G issues
Hyderabad, Apr 21: Uninor today said it is optimistic that a solution to the 2G spectrum issues would be found, even as the company has initiated search for a new Indian partner for setting up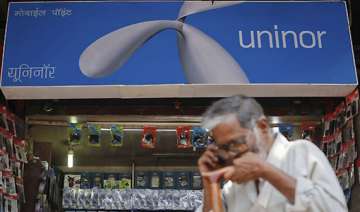 PTI
April 21, 2012 18:44 IST
Hyderabad, Apr 21:
Uninor today said it is optimistic that a solution to the 2G spectrum issues would be found, even as the company has initiated search for a new Indian partner for setting up a new entity.
"We see there will be a clarity on 2G spectrum auction process before June 2 and are hopeful that a solution will be found before June 2 (when its licences would terminate). At the same time, we are holding dialogue with the Indian government and all these things make us optimistic that a solution will be found," Uninor Managing Director Sigve Brekke told reporters here.
Uninor, a joint venture between Norway's Telenor and Indian real estate major Unitech, lost 22 licences after the Supreme Court cancelled 122 licenses of various telecom operators on February 2 in the 2G spectrum scam case.
Referring to the plans to form a new entity in India, Brekke said Telenor, which now holds 67 per cent stake in the company, is talking with a handful of local companies, though it would hold 74 per cent stake in the new entity.
"Our new partner will not be a telecom operator and it will be a partner without getting involved in operations," he said, adding that separation with Unitech was in the arbitration process in Singapore.
Brekke said that Telenor's current investment in India was around Rs 14,500 crore.
"We have to secure the current investments and hence a notice on bilateral treaty has been sent to the Indian government. The consultations are going on and I assume that solution will be found out.
"We have already said that the total investment here (in India) will be around Rs 16,500 crore, and we see the break-even happening in first half of the next year."
To a query, Brekke said Uninor has decided to focus on affordable voice services, rather than the 3G. "As a new comer...we have decided to be very-very focused on voice and later move to data (services) which will be done in a step-by-step manner."