United Bank cuts lending rate by 0.25%
New Delhi: State-owned United Bank of India on Tuesday slashed its base rate, or minimum lending rate, by 0.25%.It has been decided to reduce the base rate of the bank from 10.50% to 10.25% with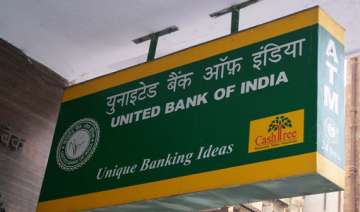 PTI
March 18, 2014 19:41 IST
New Delhi:
State-owned United Bank of India on Tuesday slashed its base rate, or minimum lending rate, by 0.25%.
It has been decided to reduce the base rate of the bank from 10.50% to 10.25% with effect from 24 March, United Bank said in a filing to BSE. All new loans, including home and car loans, would become cheaper by 0.25% with the reduction in the base rate. Shares of United Bank were trading at Rs.28 a unit, up 3.70% on BSE.
Earlier this month, another public sector lender, Allahabad Bank, raised its base rate by 0.05% to 10.20% from 10.25%. In its third quarter review of monetary policy, the Reserve Bank of India (RBI) in January raised the key repo rate to 8% in a bid to curb inflation. The central bank's move was expected to translate into higher equated monthly instalment (EMIs) and push up borrowing costs for corporates.