Unprecedented seven-layer security ring for Obama's India visit
New Delhi: A seven-layer security ring will be thrown around the VVIP enclosure on Rajpath for the Republic Day parade to be witnessed by US President Barack Obama and the airspace over the area would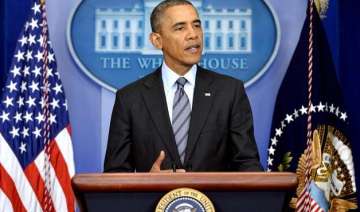 India TV News Desk
January 25, 2015 14:06 IST
New Delhi: A seven-layer security ring will be thrown around the VVIP enclosure on Rajpath for the Republic Day parade to be witnessed by US President Barack Obama and the airspace over the area would be monitored by a radar to be specially set up. This will form part of the planned unprecedented ground-to-air security drill that will turn the national capital into an impregnable fortress during the visit of Obama as Chief Guest for the main Republic Day celebrations on January 26 – the first by any American President.
A multi-agency control room will monitor the surveillance operations in every area of the national capital which has been put on the highest alert because of the visit of the US President. Obama is arriving here on January 25 on a three-day visit to the country.
Threat perception is the highest for the event but there is no specific intelligence input about a possible terror strike, officials engaged with the preparations said today while giving a broad overview of the security drill.