This woman's awesome resume impressed Airbnb's CEO and landed her dream job
Nina Mufleh from Middle East who's been living in San Francisco for a year, really wanted to work for Airbnb. Like many others, she soon found that her applications were going into the dustbin.To change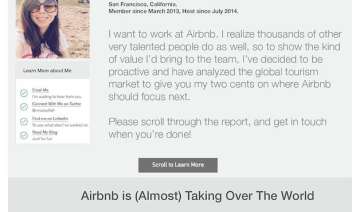 India TV Business Desk
April 23, 2015 18:10 IST
Nina Mufleh from Middle East who's been living in San Francisco for a year, really wanted to work for Airbnb. Like many others, she soon found that her applications were going into the dustbin.
To change things for the better, she took a different approach to create a stunning reusme that mirrors Airbnb's website. The out-of-the-box approach she followed blew the minds of Airbnb's higher-ups and attracted tons of attention both inside and outside of the company.
Like many others, she was not so confident of getting selected, so she decided to be proative and anaylzed the global tourism market to give what she said "my two cents on where Airbnb should focus next."
Here resume was not reflective of her past experience – rather it showcased what she knows about the travel industry, how she can contribute to Airbnb, and what she thinks the company should pursue next.
Given limited recruiting resources, experts request job seekers to take different approaches as it helps the recruiter to understand the person better and tells just how much effort and how much they really want the role.
Check out her brilliant résumé in its entirety here.