Vistara operates its first flight from Delhi to Mumbai
New Delhi: Vistara's entry comes at a time when the Indian aviation space has been going through a turbulent weather. While Kingfisher had to be grounded after making a big splash with its positioning as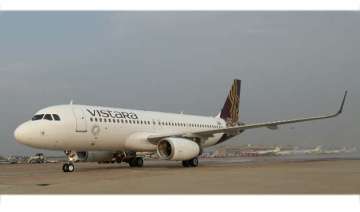 PTI
January 09, 2015 18:38 IST
New Delhi: Vistara's entry comes at a time when the Indian aviation space has been going through a turbulent weather. While Kingfisher had to be grounded after making a big splash with its positioning as a 'luxury' carrier, budget airline Spicejet is currently going through tough times.
The going has not been good for some other airlines either.
Menon, a Tata Group veteran who has been made Chairman of Vistara, also said that he is not worried by the competition.
"You can't start a business by being worried about competition but by believing you have a space. Competition is good for customers," he said.
"For long now, we have held on to this particular dream and today I can proudly say that our persistence has been well worth it and has paid off," Menon said.
Vistara CEO Phee Teik Yeoh said he would like to invite India to "fly the new feeling" with this airline.
The joint venture - Tata-SIA Airlines - known by its brand name Vistara, was announced in September 2014 for launching a full-service carrier in the country.
The two JV partners had made attempts to enter the domestic skies earlier too, but in vain.
Before today's inaugural flight, SIA CEO Goh Choon Phong said India's aviation market has been expanding rapidly and they have been trying to participate directly and contribute to this growth story for many years.
The airline had applied to the Directorate General of Civil Aviation (DGCA) for the flying permit in April last year but could get it only late last year.
On December 18 last, Vistara finally announced the launch of its operations from January 9 with flight from Delhi to Mumbai and Ahmedabad.
Vistara, which has two leased A320s as of now, will operate 148-seater Airbus A320-200 with 16 seats in business class, 36 in premium economy and 96 in economy, on these routes.