When a girl tries to have sex with 100 men, an interesting thing happens
What would happen if a complete stranger (here a pretty young woman) walks upto you and ask you to have sex?Obviously, this may get butterflies in your stomach!In an experiment conducted by YouTube star Andrea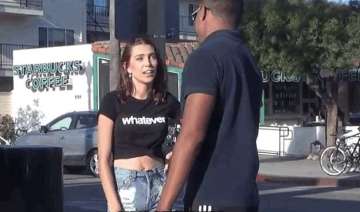 India TV News Desk
April 28, 2015 13:01 IST
What would happen if a complete stranger (here a pretty young woman) walks upto you and ask you to have sex?
Obviously, this may get butterflies in your stomach!
In an experiment conducted by YouTube star Andrea Wendel, she asked 100 men on the street to have sex with her after not much more than a greeting. A hidden camera caught their responses and shows that shows at least not ALL men automatically jump at the chance. Surprisingly, some of them gave an interesting list of reasons to turn down this once-in-a-lifetime opportunity.
Here is the video:
Video courtesy: Whatever.com