Alec Baldwin wins Emmy for roasting Donald Trump, Twitterati delighted
Earlier Baldwin had won the award for lead actor in comedy, back to back in 2008 and 2009 for playing Jack Donaghy in 30 Rock.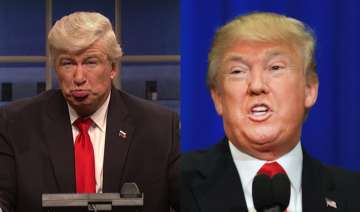 Written by: India TV Buzz Desk
New Delhi
September 18, 2017 16:24 IST
Alec Baldwin bagged the 69th annual Emmy Awards for portrayal of US's President Donald Trump at Saturday Night Live. He took away the award of Outstanding Supporting Actor in a Comedy Series for the recent season of SNL. In his acceptance speech, he took a jibe at the president which made audience burst into laughter. He said,"I guess I should say, at long last, Mr. President, here is your Emmy". He referred to the point that Trump didn't win an Emmy for his show The Apprentice.
Baldwin won the award in the competitive category which has nominees like Louie Anderson (Baskets), Ty Burrell (Modern Family), Tituss Burgess (Unbreakable Kimmy Schmidt), Tony Hale (Veep) and Matt Walsh (Veep). He further went on to say that the orange wig of Trump acted like a birth control. The 42nd season of the NBC comedy series premiered on October 1, 2016 and Baldwin appeared in 15 episodes as the president. He garnered rave reviews for his stellar performance. On You Tube his Trump impersonations have more more than a million views. However, US President is not impressed with Baldwin's act. Previous year, he tweeted, ''Watched Saturday Night Live hit job on me.Time to retire the boring and unfunny show. Alec Baldwin portrayal stinks. Media rigging election!''.
This is Baldwin's third win at Emmys. Earlier he had won the award for lead actor in comedy, back to back in 2008 and 2009 for playing Jack Donaghy in 30 Rock. Soon after he received the reward, Twitterati rejoiced. Here are some reactions:
Alec Baldwin won an #Emmy for his SNL impressions of me! NOT FAIR! He made me look like an idiot & I do that much better than he can! #Emmys pic.twitter.com/udvs8PrIkE

— Donald J. Trump (@RealDonaldTrFan) September 18, 2017
Alec Baldwin wins @TheEmmys for Trump impression. And all this time I thought Trump was just doing a bad Alec Baldwin impression.#Emmys2017 pic.twitter.com/Kxa5JTU6lE

— Paul Lander (@paul_lander) September 18, 2017
Hey @realDonaldTrump @AlecBaldwin just got an Emmy for playing you better than you do!! You can't even do yourself the best.

— PaiysleeResists (@Paiyslee) September 18, 2017
Congratulations to @AlecBaldwin for doing what @realDonaldTrump never will!

Credit for this gem goes to @heatherrayne. #Emmys #MAGA pic.twitter.com/7OL9KgUFhx

— Samy St Clair 📷 ✍️✈ (@SamyStClair) September 18, 2017
Alec Baldwin won an Emmy for playing a man who couldn't win an Emmy.

I love it. #Emmys

— Tony Posnanski (@tonyposnanski) September 18, 2017