For the first time, scientists change flower colour using gene-editing tool CRISPR-Cas9
According to scientists, this was the first attempt in which this gene-editing tool was used for flower colour.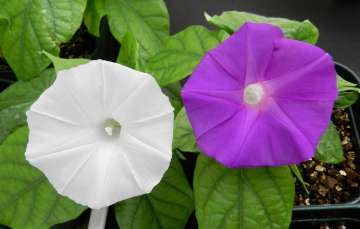 Written by: India TV Buzz Desk
New Delhi
September 12, 2017 12:48 IST
In what can be termed as a breakthrough achievement, Japanese scientists have altered the colour of a flower by using gene-editing tool. The beautiful morning glory flower or Asagao which is found in Japan was used in the experiment involving CRISPR-Cas9 gene-editing mechanism. By tweaking a particular gene, its colour was changed from purple to white.
Asagao was used as it is one of the two traditional horticultural model plants in the National BioResource Project in Japan (NBRP). The success rate of the project was 75 per cent which is relatively high. The final product was white flower with green stem opposite to the original purple flower and stem. The team of researchers changed a special gene dihydroflavonol-4-reductase-B (DFR-B) which is responsible for the colour of plants. Basically they turned off enzyme produced by DFR-B which finally resulted in loss of colouring pigment anthocyanin. The biggest challenge of the team was to let other two genes situated close by DFR-A and DRF-C be left untouched.
The experiment was conducted jointly by University of Tsukuba, Yokohama City University, and the National Agriculture and Food Research Organization (NARO). According to scientists, this was the first attempt in which this gene-editing tool was used for flower colour. Earlier it has been used to edit human embryos. CRISPR is a kind of molecular scissors that can remove unwanted genes, replacing it with new ones. This controversial technology was also used to create 'designer babies'. Gene-editing technique is also helpful in removing flawed or dangerous genes