One of its kind: Love story of a tall man and a very short lady
It may be politically correct to say that it is love that actually matters in a relationship but deep down, we all know that looks matter too!But this does not always stand true. Few days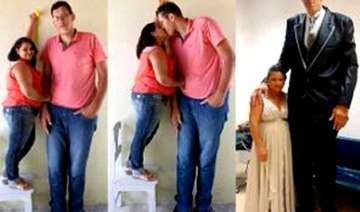 India TV News Desk
April 21, 2015 17:19 IST
It may be politically correct to say that it is love that actually matters in a relationship but deep down, we all know that looks matter too!
But this does not always stand true. Few days back we heard about a well-to-do electrical engineer Chittaranjan Tiwari who fell in love with a disfigured acid attack survivor Sonali Mukherjee and now here is yet another example.
Now-a-days when love is more about physical appearance than an emotional connect, a Brazilian couple has stood exemplary to the rest.  They have proved that for some people in this world feelings are more important than looks.
A 7 feet 8 inch man found his real love in a girl who is 3 feet smaller than him. This Brazilian couple is hogging limelight from all across the globe for their true love.
Jolisn Fernandes Da Silva spent his almost half life feeling embarrassed about his gigantic body.  After leaving school, living in family house for years, Jolisn lost all his confidence due to this.  With a tough past and 'weird' body type, Joslin was not sure about his life either.
Finally after a long wait, this shy Brazilian man found his real love when Ivema Medeross came into his life as a ray of hope. Despite the fact that she is only 5 feet tall, the two online friends soon became real life lovers.
For Joslin it was love at first sight and height was not a big issue. Today, both Joslin and Medeross are madly in love with each other and are enthusiastic to live together for the rest of their lives.
According to doctors, Joslin had Benain tumor in Pituitary gland which produces growth hormones in uncontrollable manner.
In 2007, due to family pressure he agreed to remove his tumour. After surgery, the flow of growth hormones was controlled but didn't stop.
Meanwhile, Joslin became a celebrity because of his huge body type and had a big fanfare. Among all his fans, there was a special fan, Ivema who later became his wife.
Friendship which started on Facebook, gradually changed into love and later culminated into marriage.
Though in starting, Ivema had lots of doubts and curiosity but later everything turned out normal and fantastic.
The couple is all happy and enjoying their matrimonial bliss today.