After months of silence! All India Bakchod is here with 'comeback' video
"It's been a while, but we are back!"All India Bakchod, (abbreviated as AIB) the infamous comedy collective, is all set to make its comeback on the YouTube post the 'roast' controversy.Recently seen educationg the peeps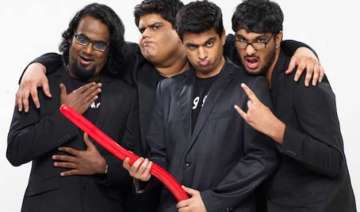 India TV News Desk
April 28, 2015 23:34 IST
"It's been a while, but we are back!"
All India Bakchod, (abbreviated as AIB) the infamous comedy collective, is all set to make its comeback on the YouTube post the 'roast' controversy.
Recently seen educationg the peeps regarding Net Neutrality in the video #SaveTheInternet, the group has announced its come back by uploading a video on their Facebook page.
The group promises to be back on track with fresh videos lined up, which are as edgy as always.
Interestingly, the AIB group went almost underground after their show 'AIB Knockout' was dragged to court.  The sold out show, featuring Arjun Kapoor and Ranveer Singh as Roast and Karan Johar as host, was reported by many people for use of abusive language.
After the mounting controversy, AIB team remove the show video from the YouTube on February 3, 2015.
While removing, AIB team tweeted, "Have taken down AIB Knockout for now. We will speak soon".
Now after more than two months, they are back in the business. So get ready for the heavy laughter dose coming your way!