Spectacular! Russian Skaters win hearts performing on Ranveer-Deepika's 'Dhol Baaje' track (watch video)
New Delhi: Bollywood actress Deepika Padukone has been winning hearts with her splendid performances in her movies like 'Bajirao Mastani', 'Piku' and several others.The diva is not just a brilliant actress but also an amazing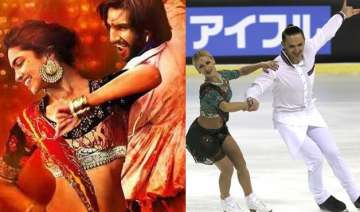 India TV Entertainment Desk
February 08, 2016 9:13 IST
New Delhi: Bollywood actress Deepika Padukone has been winning hearts with her splendid performances in her movies like 'Bajirao Mastani', 'Piku' and several others.
The diva is not just a brilliant actress but also an amazing dancer.
Don't believe us?
Well check out her dance performance in 'Goliyoon Ki Raasleela Ram Leela' where she is seen doing garba on the song 'Nagada sang dhol baje' in front of Ranveer Singh.
It indeed left anyone amazed and the song has been loved so much that it popularity rose to the 2016 European Figure Skating Championships as well.
Confused?
Well, Russian Olympic champions Tatiana Volosozhar and Maxim Trankov chose Ranveer-Deepika's 'Nagada sang dhol baje' to perform at the ice-skating championship held in Slovakia.
The skaters chose green and white Indian attires for their performances and presented an intricate and balletic routine set to the desi number.
Not just the couple did complete justice to the song with their performance but the daring lifts, heart-stopping twists and graceful spins left everyone spellbound.
Tatiana Volosozhar and Maxim Trankov not just won the hearts with their phenomenal act but also ended up winning the gold medal at the championship.
We wonder how Deepika Padukone and Ranveer Singh will have to say about their performance.