This Turkish vendor makes Aamir Khan wait for ice-cream, teases and amuses him with tricks
It was fun to see the actor eagerly waiting for the ice cream.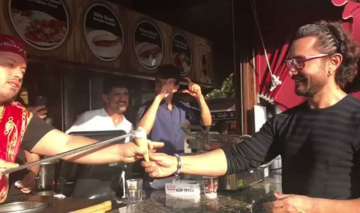 Written by: India TV Buzz Desk
New Delhi
October 09, 2017 20:17 IST
Through various life lessons, we have learnt that 'sabr ka phal meetha hota hai'. It means that good things are worth waiting. You must have seen those videos of ice cream vendors teasing customers with their tricks, this time it was Aamir Khan who became the victim. He had to wait for his ice cream for a good one minute before it was finally served to him.
In a video shared by Aamir Khan on Facebook, a Turkish vendor can be seen teasing the Dangal actor. The vendor was skillfully doing his tricks while Aamir seemed to be completely amused. The superstar finally got his hands on ice-cream after licking it.''Sabar ka phall meetha. Lovely Turkish ice cream," Mr perfectionist captioned the video as he shared it on Twitter and Facebook. Since then it has gone viral garnering over 6.4 million views on Facebook and 21K retweets on Twitter.
The actor recently visited Turkey for GQ 2017 awards. On the work front, Aamir's next film Secret Superstar is slated for Diwali release. Besides, he is also shooting for his ambitious project Thugs of Hindostan