Bangalore police goes quirky, wins internet with 'Game of Thrones' & 'Harry Potter' tweets!
Swag level: Expert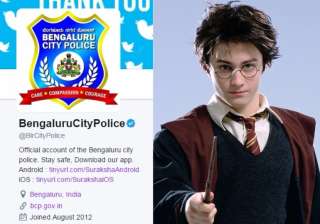 India TV Buzz Desk
New Delhi
04 May 2017, 05:17 PM IST
Most police tweets contain traffic warnings or narrating the happenings of the city. But these quirky tweets by Bangalore Police's official twitter handle compelled us to rub our eyes in surprise. You'll feel like saluting the creativity of Bangalore Police after reading their slapstick 'Game of Thrones' and 'Harry Potter' tweets. 
They used the witty TV series references like Harry Potter and Game of Thrones to spread awareness about otherwise boring subjects like drunk driving, road safety, cyber crime, etc. It seems like Bangalore Police is on a mission to make their tweets never go unread. Who would like to omit the tweets as hysterical as theirs? 
Needless to mention why, Bangalore Police have won the hearts of netizens, one tweet at a time. Even if you're not a resident of Bangalore city, follow the official account of Bangalore police for your daily dose of laughter. 
Have a look at this illustrative poster telling citizens not to use the road to cross the busy road. 
Be a Skywalker instead. Please use the Skywalk.#GameOfLife #JustBCPThings pic.twitter.com/KgAMzYISyV

— BengaluruCityPolice (@BlrCityPolice) May 4, 2017
We're heavily surprised by the witty captions and intentional puns they deploy in their tweets. Come on, where do you get all these gags from? 
This notorious gang were wanted in several robbery cases. Its safe to say, better SLATE than never. pic.twitter.com/PqDn5xdfGA

— BengaluruCityPolice (@BlrCityPolice) May 3, 2017
Bangalore Police can even compel Jon Snow to wear a helmet. They didn't spare a chance to take a jibe at the popular GoT character. 
What Jon knows now...

99% : Nothing
1% : Road Safety#GameOfLife pic.twitter.com/ek60Nqcuxg

— BengaluruCityPolice (@BlrCityPolice) May 2, 2017
They cracked a joke on the drug dealers as well. You can't stop laughing at this one! 
If your dealer did not reach you with your stash, this is probably why. Don't worry, you can come to the Police Station and collect it. pic.twitter.com/wqxPvmvxQo

— BengaluruCityPolice (@BlrCityPolice) May 1, 2017
Why put a bland awareness post when you can pour your best innuendo into it? 
It was at this very moment they knew, they shouldn't have brought their circus to the streets.

Why risk your life and that of the others? pic.twitter.com/kL5NkLu9Xx

— BengaluruCityPolice (@BlrCityPolice) April 30, 2017
Even the Harry Potter wasn't spared the agony of their slapsticks! 
Don't drink and drive
We're pretty sure you've heard
You might crash or worse
Even if you're a wizard pic.twitter.com/AUuMZThgrW

— BengaluruCityPolice (@BlrCityPolice) April 28, 2017
Swag level: Expert
Once you open the fraud gate, we'll ensure you hold the slate.

ನೀವು ತೆರೆದರೆ ಫ್ರಾಡಿನ ಗೇಟು
ಪಕ್ಕಾ ಹಿಡಿಸ್ತೀವಿ ಸ್ಲೇಟು pic.twitter.com/5roqmz9et4

— BengaluruCityPolice (@BlrCityPolice) May 3, 2017
​
Way to go Bangalore Police. Because of these puns, at least we read the message behind them.