Aamir shuts all speculating he used steroids for 'Dangal' body with logical explanations
The upcoming movie 'Dangal' has been in news for many reasons and drastic weight loss of superstar Aamir Khan is one of them. The video that showed Aamir's process of becoming fat to fit garnered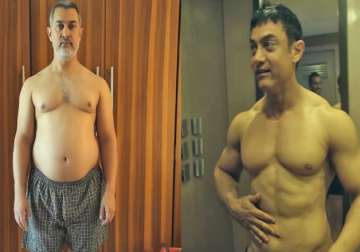 India TV Entertainment Desk
New Delhi
December 20, 2016 18:25 IST
The upcoming movie 'Dangal' has been in news for many reasons and drastic weight loss of superstar Aamir Khan is one of them. The video that showed Aamir's process of becoming fat to fit garnered praises, but there were few who suggested that the actor used steroids to get the desired result.
Earlier his trainer Rahul Bhatt had refuted these claims and now Aamir himself has addressed them. Speaking to a leading daily, Aamir explained how his weight loss became possible without using steroids.
Aamir Khan said on average losing one pound per week was feasible. He added that if one needs to lose weight faster then they have more calorie deficit.
"So, if you have calorie deficit of 500 calories a day, you lose one pound a week. If you have the calorie deficit of 1,000 calories a day, you lose two pounds a week. That is considered to be on the higher side," Aamir was quoted by the daily.
Aamir revealed when he started the process when he was doing double of the higher side. Meaning he lost four pounds in one week for three weeks. Aamir said he then brought it to two pounds per week.
"So, I had 20 weeks to do that. If you do the math, you will understand that is how I got there. Immediately after PK, I was in the weight training mode for two years," added Aamir.
Since Aamir himself has spoken about the issue, it should leave little room for people to judge his dedication.
The entire process of 'Dangal' was definitely painstaking for Aamir. He first gained weight and weighed 97 kgs to play the older version of wrestler Mahavair Singh Phogat. After filming few portions of the movie, Aamir went on a weight loss spree and shed almost 25 kgs.
'Dangal' which is directed by Nitesh Tiwari is slated for a release on December 23.