Aamir texts Shah Rukh and Salman, keen to show them 'Dangal'
Superstar Aamir Khan is awaiting release of 'Dangal' and said he invited his friends and noted actors Shah Rukh Khan and Salman Khan to watch the movie. He said that once the two actors agree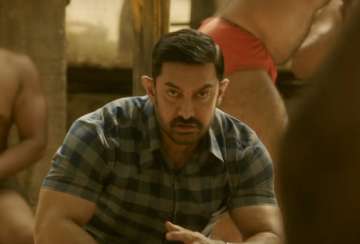 India TV Entertainment Desk
Mumbai
December 21, 2016 15:56 IST
Superstar Aamir Khan is awaiting release of 'Dangal' and said he invited his friends and noted actors Shah Rukh Khan and Salman Khan to watch the movie. He said that once the two actors agree to watch his movie, Aamir will arrange for a screening.
The Mr. Perfectionist of Bollywood said that he has texted SRK and Salman to come and watch the movie. He made this statement at the special screening of Dangal last night, which was attended by former cricketer Sachin Tendulkar and politician Raj Thackeray among others.
Dangal is based on ace wrestler Mahavir Singh Phogat and the journey of his daughters Geeta and Babita Phogat. Aamir said he was happy that those who have watched the film have come out loving it, but insisted he is still nervous to see how the audience react to it.
"I am always nervous about all my films. So, whenever we make movies with all the love, we are worried if the audience will like it. They haven't seen the film yet, only our friends and relatives have been seeing the film," he said. "We are happy that those who have seen it are loving it. But we are waiting to see how the audience receives it once the film is released."
The special screening of the film was also attended by Mahavir Singh Phogat, whose character Aamir plays in Dangal, and his family. Phogat said he was impressed with the way Aamir got into the character and hopes the film brings about some change in society when it comes to gender bias.
"He has worked very hard. I hope the film brings some changes in society where there is a lot of inequality towards our girls," he said. Directed by Nitesh Tiwari, the film is scheduled to release in India on December 23.
(With PTI Inputs)