Why did Rajinikanth refuse to dub Aamir's 'Dangal'? Mr. Perfectionist answers
For a while now there have been reports that actor-producer Aamir Khan approached megastar Rajinikanth to dub for the Tamil version of the forthcoming film "Dangal", but the latter refused. Now, Aamir has revealed the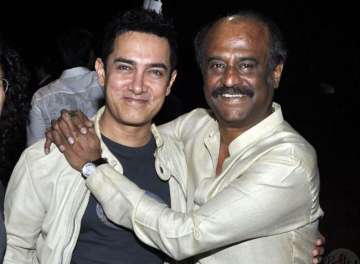 India TV Entertainment Desk
Mumbai
December 17, 2016 10:38 IST
For a while now there have been reports that actor-producer Aamir Khan approached megastar Rajinikanth to dub for the Tamil version of the forthcoming film "Dangal", but the latter refused. Now, Aamir has revealed the reason behind it and said that Rajinikanth turned down the offer because his voice is extremely recognisable.
"The film is being dubbed in Tamil and Telugu, and yes, I did approach Rajini sir. Rajini sir also loved the film and after discussing it with him, both he and I decided that his voice is too recognisable," Aamir said at an event here on Friday.
Aamir added that Rajinikanth's voice is recognizable and it wouldn't go with his face. After discussing this with him, Aamir understood why he refused.
He said he would love to work with Rajinikanth.
Whether he does a Hindi film or a Tamil film, we watch his films in any case. So, I would love for him to do a Hindi film. '2.0' is coming and I am looking forward to that. I would love to work with him again and I am big fan of Rajini sir," said Aamir, whose "Dangal" is an Indian biographical sports drama film.
Aamir brings alive the real life character of Mahavir Singh Phogat, who taught wrestling to his daughters Babita Kumari and Geeta Phogat.
The film is releasing on December 23. Aamir said he has requested theatre owners to avoid increasing the price of the movie's ticket.
(With IANS Inputs)