'A 'DDLJ' wouldn't have worked in today's day and age'. So Aditya Chopra made 'Befikre'
If we would have seen the trailer and songs of 'Befikre' without knowing who had donned the director's cap, we couldn't have named Aditya Chopra even in our wild guesses. With three legendary movies -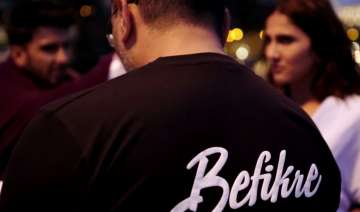 India TV Entertainment Desk
New Delhi
December 05, 2016 22:53 IST
If we would have seen the trailer and songs of 'Befikre' without knowing who had donned the director's cap, we couldn't have named Aditya Chopra even in our wild guesses.
With three legendary movies - "DDLJ", "Mohabbatein" and "Rab Ne Bana Di Jodi" – behind him, who would have thought that the Yash Raj Films head-honcho will come up with 'Befikre' next.
Many would have many questions regarding why Adi Chopra chose to make this seemingly frivolous Paris-set romance.
Well, all the queries have been addressed by the man himself.
Aditya Chopra, in a heartfelt note to his fans that was accompanied with his picture with lead pair Ranveer Singh and Vaani Kapoor, has opened up about his reasons to direct "Befikre", saying he wanted to do something that helped him rediscover a fearless passion for filmmaking.
The director, who is known for his reclusive nature, shot to fame with "Dilwale Dulhania Le Jayenge".
Chopra said he wanted to get rid of the burden of expectations that had come to haunt him.
"It's been 21 years since DDLJ and I have worked tirelessly producing loads of films, building a studio model, even wrote and directed a couple of films on the way. All the while I gained a lot of knowledge and experience, came to know a lot of things."
"But with knowledge came a sense of fear as well... Fear of failure, fear of not meeting expectations. When you know a lot, you become more cautious and when you become cautious you tend to lose the one thing that drove you to do this in the first place, fearless passion. I figured it's time to reboot myself."
Chopra said he realised that what worked for "DDLJ" will not connect with the youngsters today as the world has changed and so "have definitions of love".
"More importantly, women have changed. Today they are equal to men (actually stronger) in every possible way. This truly has changed the rules of love forever. Who asks whom out first? Who says I love you first? Do we say I love you at all? Who breaks up first?"
The director said he wanted to leave the baggage of his three massive films, all starring Shah Rukh Khan.
"I wanted to feel as if I'm making my first film. To achieve this, the most important decision I took was to surround myself with people I didn't know. Since the film is set in Paris, I chose a full French crew.... "
"Since I was a complete stranger to them, they did not come with any baggage of my past achievements and treated me as any regular director. And since they were unknown to me and my style of filmmaking, I could rediscover myself as a student of cinema once again."
Chopra said dramatic conflict, heightened emotions and intense romance were the three pillars on which his stories stood but he decided to ditch this as well in "Befikre".
"So at 45, I'm being fearless once again. I'm stepping out of my comfort zone and into the minefield of the young and restless. Unlearning everything that I know and trying to figure out if I'm still relevant to the youth today," he said, adding he is "shit scared" about the response to the film, slated to release this Friday.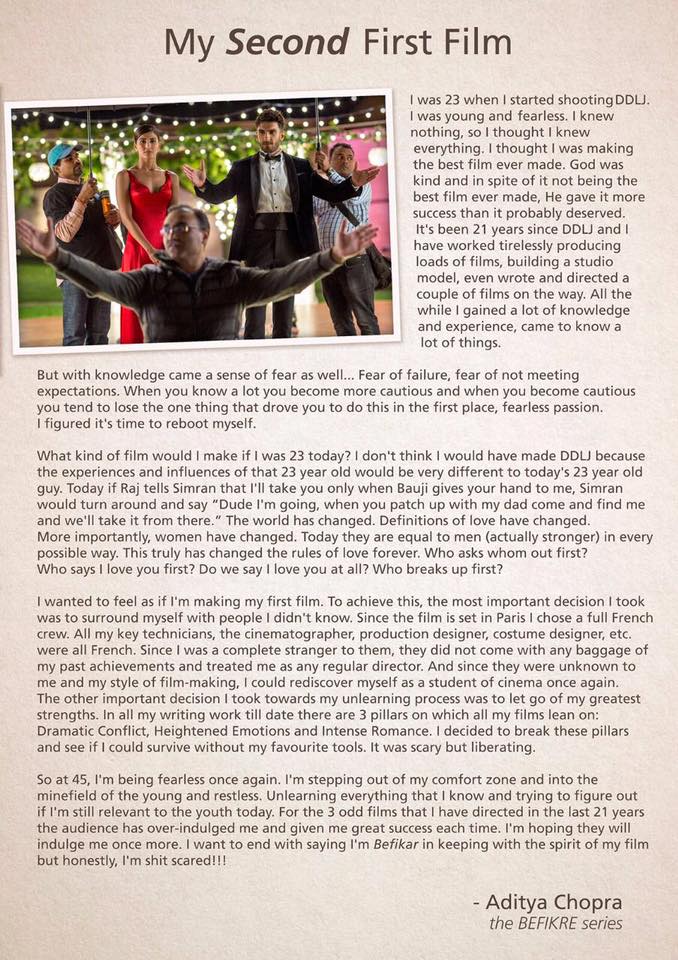 A heartfelt note by Aditya Chopra