Aamir wants 'money-making' tips from Akshay; Khiladi Kumar has this to say to it
Superstar Akshay Kumar has responded to his peer Aamir Khan's statement on chat show 'Koffee With Karan' of need to learn money-making from the former. In a conversation to a leading daily, Khiladi Kumar said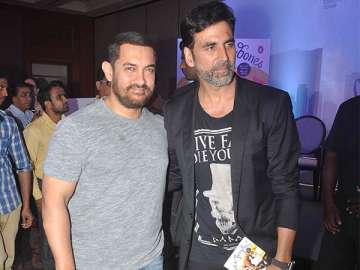 India TV Entertainment Desk
New Delhi
December 20, 2016 15:59 IST
Superstar Akshay Kumar has responded to his peer Aamir Khan's statement on chat show 'Koffee With Karan' of need to learn money-making from the former. In a conversation to a leading daily, Khiladi Kumar said if anyone wanted to earn more, they should make more, hinting that Aamir should do more movies.
When Akshay was asked about this statement of Aamir, he first laughed off and said, "Trust the highest grossing actor to want to ask me such a question!" The 'Airlift' actor then said since he hasn't watched the episode it wouldn't be right to comment on it.
"My only tip for anyone is if you want to earn more, then make more," Akshay added.
Akshay then said that the three Khans- Shah Rukh Khan, Salman Khan and Aamir Khan should do more movies each year. Akshay further said that they enjoyed a huge fan following and knew secret ingredients to make movies successful.
Fanboying over them, Akshay added that he found it extremely difficult to wait long for their movies. Khiladi Kumar said he was glad that SRK, Salman do more than one movie a year and hoped Aamir followed suit.
Well, not only Akshay, even fans of Aamir would wish the same.
Currently, Aamir is awaiting release of upcoming movie 'Dangal'. The movie has been in news since it went on floors and Mr. Perfectionist of Bollywood is said to be working on it for over a year now.
On Karan's show, Aamir revealed he was nervous about the movie. When Karan reminded him of all the rave reviews the movie has garnered from people in film fraternity, Aamir told he was thankful but couldn't be relaxed till the viewers saw it.
Taking into account Aamir's history of giving blockbusters and the appreciation of 'Dangal' trailer, it won't be wrong to say he shouldn't fret about how viewers will receive his movie.