Bigg Boss 10: Gaurav and Bani's friendship is in danger
'Bigg Boss' introduced luxury budget task 'BB Taxi Stand' and as expected it created another fight in the house. Celebrity contestants Gaurav Chopra and Bani landed to a fight during the task. As per the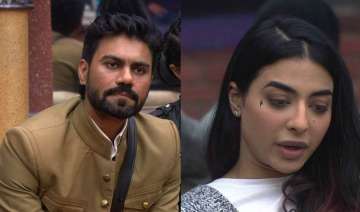 India TV Entertainment Desk
New Delhi
December 07, 2016 19:20 IST
'Bigg Boss' introduced luxury budget task 'BB Taxi Stand' and as expected it created another fight in the house. Celebrity contestants Gaurav Chopra and Bani landed to a fight during the task.
As per the task, each contestant was given 2000 points to travel by taxis in the house and they had to pay fine to Priyanka, the traffic police, in case of any rule break. During the task Mona asked Priyanka to charge fine from Rohan and Sahil who broke the rule. This led to ugly fight between both of them with Priyanka spitting on Rohan.
Later, Gaurav refused to pay amount to Bani that made her sad. Gaurav asked Priyanka to clarify the issue with Bani, Priyanka got angry on him. Mona suggested Gaurav to talk to his friend Bani whereas Gaurav felt that the latter was expecting too much from their friendship. While resolving the matter, Gaurav got furious and walk out giving all his points to Bani.
Lopa lost all her points, thus Priyanka threatened to put her in jail. To save their friend Rahul and Rohan gave some of their points to her.
The important point is, the contestants who performed well in the task will get the chance to fight for captaincy.