Bigg Boss 10: Manu Punjabi, Priyanka Jagga to mount troubles for Bani
The days ahead in the 'Bigg Boss' house appear gloomy for Bani J, all thanks to Priyanka Jagga and Manu Punjabi. Priyanka and Manu, who are locked inside a secret room, will prohibit Bani from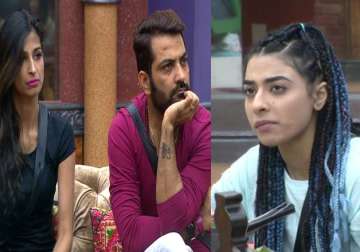 India TV Entertainment Desk
New Delhi
December 13, 2016 16:15 IST
The days ahead in the 'Bigg Boss' house appear gloomy for Bani J, all thanks to Priyanka Jagga and Manu Punjabi. Priyanka and Manu, who are locked inside a secret room, will prohibit Bani from doing something that she loves the most - hitting the gym.
It is not hidden from followers of the show that Manu (who made a comeback after days following his mother's demise) dislikes Bani. After Bani didn't support Priyanka in the captaincy task, the latter held a grudge against her. Now that the two are in a room together, it was obvious that they would team up against Bani.
In case you are wondering, how Manu and Priyanka would keep Bani from working out, here is what will happen.
In tonight's episode, Bigg Boss will ask inmates to participate in a poll and lock their answers. While the inmates will take part in this activity in the living area, the real task would be happening in the secret room. The decision for every question will be taken by Priyanka and Manu, a report in a daily said.
It is during this exercise that Bigg Boss will ask Priyanka and Manu if Bani should be banned from using the gym instantly and both of them will say 'yes'.
This will definitely irk Bani as everyone knows her love for sweating it out in the gym. This decision by Priyanka and Manu might also lead to tension in the house as Bani will think that it is the inmates who took this decision.
It is certain that a lot of arguments and tensions will happen after this. Apart from Bani, let us see who else becomes victim to the plots of Manu and Priyanka.