Bigg Boss: Swami Om's ugly spat, conflict between Manveer, Lopa and Rohan create 'Toofan'
The controversial house of 'Bigg Boss', tonight, has changed in to beautiful Kashmir. But, if you are thinking that the snowy weather will cool down the aggressive contestants than you are absolutely wrong. Tonight, the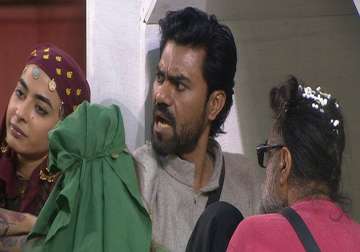 India TV Entertainment Desk
New Delhi
December 27, 2016 17:08 IST
The controversial house of 'Bigg Boss', tonight, has changed in to beautiful Kashmir. But, if you are thinking that the snowy weather will cool down the aggressive contestants than you are absolutely wrong. Tonight, the new task of captaincy 'Toofan' will be announced in the house that will result in an ugly spat between Manveer, Rohan and Lopa.
With igloo and snow, the Bigg Boss house gave the glimpse of Kashmir. Soon, an announced on the captaincy task was made, according to which last person to enter the igloo would not be allowed to participate in captaincy task. Housemates rushed in the igloo to compete for the captaincy but Monalisa chose to stay away from it.
Any task in the house is followed by squabbles and verbal arguments. While performing the task, Manveer couldn't control his anger and got engaged in conflict with Lopa Mudra and Rohit Mehra. Things got bitter and then Manveer's friend Manu came in between to solve the issue. However angry Lopa didn't seem in good mood as she has always proved her point in the previous episodes.
Swami Om is known for his annoying behaviour. This time during the task, he locked horns with Gaurav which was then followed by harsh war of words.
Captaincy tasks performed during previous episodes have always witnessed hullabaloo. Now, tonight's episode will decide, who will rule the house for the coming week.