Dancing on 'Sheila Ki Jawani' to taking Swami Om's class, Salman keeps his fans hooked last weekend
Superstar Salman Khan has been entertaining his fans with back-to-back blockbusters in the past. Be it his whistle worthy dialogues in movie halls or his funny dance moves on award shows, the actor never ceases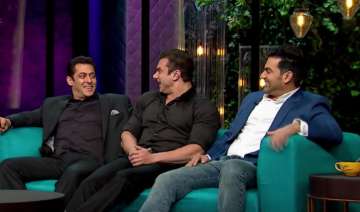 India TV Entertainment Desk
New Delhi
December 13, 2016 15:03 IST
Superstar Salman Khan has been entertaining his fans with back-to-back blockbusters in the past. Be it his whistle worthy dialogues in movie halls or his funny dance moves on award shows, the actor never ceases to increase his fan base. Last weekend was quite interesting and funny for all Bhaijaan fans.
The actor first grilled the popular commoner of the 'Bigg Boss' house, 'Swami Om' and then his 'Dhamakedar' entry along with his brothers on the century episode of 'Koffee with Karan', everything kept movie buffs hooked for a week. Needless to say, Salman doesn't need films to be on headlines.
When the star appeared on the chat show, 'Koffee with Karan', he and his brothers had barrel of fun. From talking about his ex-flame Katrina Kaif to dancing on 'Sheila Ki Jawani', fans had a belly laugh watching their star doing funny instincts. Well, who can forget Salman's take on virginity.
Salman has been the host of the controversial TV reality show 'Bigg Boss' from last few years. And, viewers will agree with the fact that the superstar never spare the person who does wrong. This time it was again Swami Om who pissed the superstar. The self proclaimed god had previously raised many eyebrows with his absurd statements. During a recent episode Swamiji passed lewd comments on Bani's mother. This made Salman furious and he took Om's class. Salman's reaction was applauded by several 'Bigg Boss' viewers on social networking sites.
On a related note, Salman will next be seen in Kabir Khan directorial venture 'Tubelight'. The film is slated to release next year.