Demonetisation: Ahead of 'Raees' release, Shah Rukh says things will get better
Demonetisation has affected the business of many Bollywood movies. However, the collection of 'Dear Zindagi' remained unfazed by the new initiative. Talking about the issue at the trailer launch, Shah Rukh Khan said that the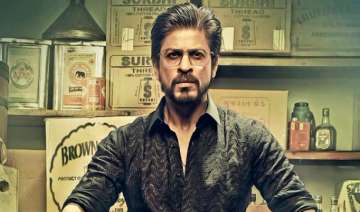 India TV Entertainment Desk
New Delhi
December 08, 2016 14:24 IST
Demonetisation has affected the business of many Bollywood movies. However, the collection of 'Dear Zindagi' remained unfazed by the new initiative. Talking about the issue at the trailer launch, Shah Rukh Khan said that the situation will get better soon. The actor is gearing up for the release of his upcoming film 'Raees' and feels that the film will not get affected by it. The flick is all set to hit the screen next year.
The actor revealed that initially due to cash crunch people might have decided to avoid certain luxuries but 'Dear Zindagi' proved that things are becoming better.
"I think things will get better as execution of system takes place. So, I think initially many people have made the choice that entertainment can take a back seat, certain luxury could take a back seat when there is a cash crunch," Shah Rukh told reporters at the trailer launch of "Raees" on Wednesday.
"But I think as we have been assured, it is seeming to ease off... and we did notice that with 'Dear Zindagi'. There is a positive difference as far as spending money on entertainment is concerned," he added.
Shah Rukh, whose character has grey shades in "Raees", says he tries not to repeat his roles.
He said: "I try my best not to repeat my roles. I try not to be like 'Anjaam' or 'Darr'. If it becomes same type of genre, then there is no point. I think Rahul (director) and his writers have written this character beautifully."
"I believe you should not justify a bad man as a character. I think he is a bad man but he has a good heart. No matter where you reach in your life, as long as you take responsibilities for your action, God will forgive us," he added.
Set in 1980s Gujarat, "Raees" tells the story of a bootlegger whose business is thwarted by a tough policeman. The film is co-produced by Excel Entertainment and Red Chillies Entertainment.
Directed by Rahul Dholakia, the film also features Nawazuddin Siddiqui and marks the Bollywood debut of Pakistani actress Mahira Khan.
Along with "Raees", Hrithik Roshan-starrer "Kaabil" will also hit the screens on January 25, 2017, a day before the Republic Day. They were earlier scheduled for January 26 release.
Speaking about the clash, SRK said: "We decided this long time back. We made the decision as soon as we came to know that both the films are coming together. Therefore, we took the decision to release the film a day before. 'Kaabil' is coming in evening shows and we are coming on regular shows. It's a logical decision as 26th is a holiday. So, why not take an advantage of that?"
(With IANS Inputs)