Fight Hunger Foundation names Sonu Nigam as the Goodwill ambassador
Singer Sonu Nigam has been announced as the Goodwill Ambassador for Indian NGO Fight Hunger Foundation. He has also released a song to help raise awareness about the cause. The song is titled "Hope in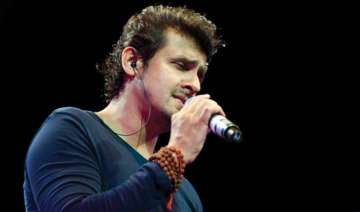 India TV Entertainment Desk
Mumbai
December 16, 2016 18:28 IST
Singer Sonu Nigam has been announced as the Goodwill Ambassador for Indian NGO Fight Hunger Foundation. He has also released a song to help raise awareness about the cause.
The song is titled "Hope in the future" and was released on Friday.
In a statement released to media, Sonu said he couldn't just stand by when millions of Indian children died of hunger. He said his new song is dedicated to the NGO Fight Hunger Foundation and that they are dedicated to a mission that no child in India died of hunger.
A hopeful Sonu said that if all of us work together, this day will come soon.
Fight Hunger Foundation is active in three Indian states -- Rajasthan, Maharashtra and Madhya Pradesh, where its expert teams diagnose and treat malnourished children and work with mothers on prevention techniques, which include the promotion of breastfeeding, good hygiene and care practices and providing a nutritious diet.
Arish Syed, Fight Hunger Foundation's Director, said: "Sonu Nigam is one of India's most talented and best loved artistes. We are extremely excited about this fantastic song which he has written for us.
"We urge every Indian to listen to this song and pledge that we will not let our children die of hunger anymore. With Sonu's unique initiative and his dedicated support to help us raise awareness, we know that we can beat malnutrition in India, for good."
(With IANS Inputs)