From Kangana Ranaut to Shubh Mangal Savdhan team, this is how Mumbai rains hampered the life of film stars
Incessant rain and flood situation in Mumbai has not only affected the normal life of Mumbaikars, but has also hampered the life of Bollywood stars.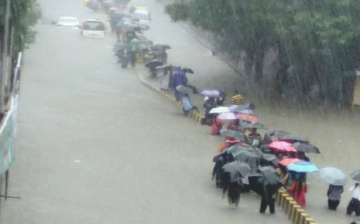 Written by: India TV Entertainment Desk
New Delhi
August 30, 2017 11:45 IST
From Deepika Padukone, Anupam Kher, Gul Panag to Madhur Bhandarkar several Bollywood celebrities by sharing videos and messages on social networking sites urged fans to stay safe.
Meanwhile, the working schedule of many Bollywood celebs were affected. The shooting schedule of many films were also cancelled due to Mumbai flood. 
Actress Kangana Ranaut, who was in Delhi yesterday to promote her film Simran, was supposed to reach Mumbai by evening. But her flight was diverted back to Delhi due to heavy rain in Mumbai. 
Sources informed that the Subh Mangal Savdhan team was supposed to visit Delhi for the promotion of their film, but their flight got cancelled due to Mumbai rains.
Meanwhile, a promotional event, which was scheduled for late actor Om Puri's last film Mr Kabaadi got cancelled due to heavy rains in Mumbai.
For more entertainment news and updates, follow our Facebook page