Happy times: Ahead of Bebo's delivery, father-to-be Saif shares his excitement
Few days before the expected delivery date of actress Kareena Kapoor Khan, her husband and actor Saif Ali Khan recently spilled the beans about the new phase of their life, and also informed about the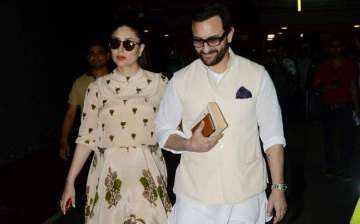 India TV Entertainment Desk
New Delhi
December 19, 2016 17:07 IST
Few days before the expected delivery date of actress Kareena Kapoor Khan, her husband and actor Saif Ali Khan recently spilled the beans about the new phase of their life, and also informed about the preparations that soon-to-be parents were doing to welcome their first baby.
Saif excitedly unveiled to a leading daily that they have decorated the room of their baby, and for him it was like living his childhood all over again. The actor became nostalgic and said that they had been residing in the house for 10 years and enjoyed every stage, and it was time for them to get ready for a different life.
Saif said, "We've done up the room and it's looking lovely."
Talking about his new beginning, the 46-year-old actor stated that their baby will complete their family, and he was curiously waiting to rejoice the new stage.
He added, "Now it's time for a different phase of our life. It also completes our family energy wise. I'm eagerly looking forward to it."
No doubt, Kareena Kapoor Khan and Saif Ali Khan are one of the most adorable couples of the industry. Ever since the actor announced about his lady love's pregnancy, he has maintained a dignified silence on the matter.
Kareena also said in the past that she didn't need advice as she wanted to protect this part of her life. The expected delivery date of the Bollywood diva is December 20.
On a related note, Saif Ali Khan will next be seen in Vishal Bhardwaj's film 'Rangoon' alongside Shahid Kapoor and Kangana Ranaut. The movie is slated to release next year.