Hema Malini remembers Jayalalithaa, tells experience of shooting Tamil movie with her
Actress and BJP MP Hema Malini spoke with high regards about deceased Tamil Nadu CM J. Jayalalithaa. In a recent interview, Hema drew similarities between her and late AIADMK chief. She said both of them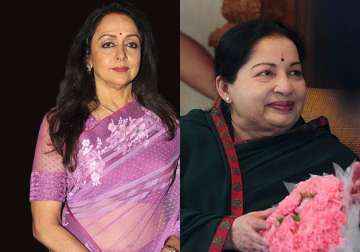 India TV Entertainment Desk
New Delhi
December 07, 2016 13:06 IST
Actress and BJP MP Hema Malini spoke with high regards about deceased Tamil Nadu CM J. Jayalalithaa. In a recent interview, Hema drew similarities between her and late AIADMK chief. She said both of them started careers simultaneously and their life too took the same turn.
Hema revealed that she was supposed to debut in Tamil movie 'Vennire Adai' where Jayalalithaa was the other heroine. Both of them would play love interests of the hero. But, later on, Hema was dropped from the project by director Sridhar, after few days of filming. Hema accepted of not feeling bad about it because she was 15 and couldn't understand the complexities of love.
Speaking about Jayalalithaa, Hema recalled that she was impressed by the grace, beauty and dignity of the former Tamil Nadu CM. She said that both of them used to come on the sets accompanied by their mothers.
Hema told that Jayalalithaa was quiet on the sets and she is now surprised how the latter went on to become such a powerful political leader.
Drawing similarities between her career and Jayalalithaa's, Hema said both of them started working in Tamil cinema. She said both of them gave stage performances and after acting they took up politics.
Singing praises for Jayalalithaa, Hema said she was rightfully called 'Amma' because of her dedication towards uplifting the poor.
"She provided free rice, televisions sets, computers even homes to the poor. That's why they loved her and called her Amma," said Hema.
Hema added that Jayalalithaa restored hundreds of temples in Tamil Nadu and called it one of her lesser known achievements.
For Hema, Jayalalithaa's biggest achievement was that she took on the male-dominated politics world.
"They tried to humiliate and cow her down in every way possible. But Jayalalithaji was unstoppable.With every attack on her integrity she became stronger," said Hema adding that there won't be another like 'Amma'.