If 'Kaabil' and 'Raees' do well, here's how Hrithik will celebrate with SRK
With New Year round the corner, the box office clash of 'Raees' and 'Kaabil' is coming closer. It seems that Hrithik gives more importance to friendship than competition. After giving good wishes to SRK for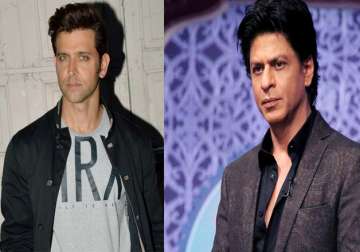 India TV Entertainment Desk
New Delhi
December 26, 2016 18:38 IST
With New Year round the corner, the box office clash of 'Raees' and 'Kaabil' is coming closer. It seems that Hrithik gives more importance to friendship than competition. After giving good wishes to SRK for his upcoming film, now Hrithik has proposed to celebrate the success of both the films with the superstar.
The actor said that as both the movies are releasing together it is indeed the loss of nearly Rs 100 crore for the industry. He further stated that his father Rakesh Roshan was aware of this fact, thus he was upset. Hrithik then hopes that both the movies do well adding that he along with his father, Shah Rukh and Farhan will celebrate the success together.
The actor who has previously called the clash unfortunate said that he understands that SRK's movie was in the waiting for too long. Thus, he wanted both the films to perform well.
Hrithik said, "My wish is that when both the films do well, Shah Rukh, I, dad, Farhan and everyone will pop champagne and celebrate for each other."
The star has opined his views on the box office battle but as far as King Khan is concerned, he has kept his lips sealed on the issue. With the 'Bang Bang' star showing friendly gestures, SRK may also react on the same in future.
On a related note, 'Raees' stars Pakistani actress Mahira Khan alongside SRK. Whereas, in 'Kaabil' Hrithik will be seen romancing Yami Gautam for the first time. Both the flicks are slated to release on January 25.