Watch video: When a candid Jayalalithaa confessed to her crush on Shammi Kapoor, sang 'Aaja Sanam'
At the age of 68, one of the most charismatic leaders of Tamil Nadu, J. Jayalalithaa breathed her last yesterday. Jayalalithaa, who became the first woman Chief Minister of the state, has left behind a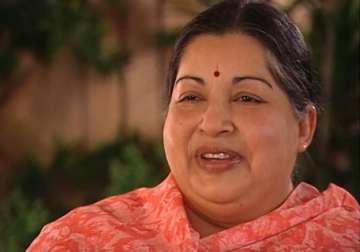 India TV Entertainment Desk
New Delhi
December 06, 2016 16:39 IST
At the age of 68, one of the most charismatic leaders of Tamil Nadu, J. Jayalalithaa breathed her last yesterday. Jayalalithaa, who became the first woman Chief Minister of the state, has left behind a legacy her successors will have difficulties matching up to.
Amma, as the people's CM was more popularly referred to, had a life full of remarkable ups and downs that saw her challenge the ordinary and overturn many several stereotypes. However, the 'Iron Lady' as the AIADMK cadre saw her as, also had a vulnerable side. This was laid bare in an interview that has now surfaced on social media.
The said interview took place in 1999 when actress and host Simi Garewal invited her for the chat show 'Rendezvous with Simi Garewal'.
By the year 1999, Jayalalithaa had already established herself as a leader of strong character, being sworn in as the CM once (1991) and losing it in next term (1996). But rarely had anyone known that 'Amma' had a crush on actor Shammi Kapoor, till this said interview where she spoke with extreme candour.
A clip from the interview is going viral, where Jayalalithaa admits to her crush with a girlish charm. In the interview, she sang 'Aaja Sanam' and also spoke about her other favourite songs.
Watch the clip here that was shared by a Bollywood fan page on Twitter:
In a rare interview #jayalalithaa talking about her crush on #ShammiKapoor and singing favourite songs. #RIPAmma #RIPJayalalitha pic.twitter.com/pn9D7pVuiz

— Bollywoodirect (@Bollywoodirect) December 5, 2016
This was one of the first incidents when Jayalalithaa spoke about how she changed after her mother's death. She accepted of feeling lost and coming out stronger. Jayalalithaa also spoke about the life altering incident of 1989 when workers of rival party DMK assaulted her in legislative assembly.
She said nothing was worth that humiliation but on leaving the house she swore to never return, and do so only as a CM. The rest, as they say, is history.
Recalling this candid interview, Simi told a leading daily that she was nothing like what was written about her. Simi added she was warned that Jayalalithaa would be temperamental but in reality she was full of grace. The host went on to say that 3-4 minutes into the interview, after Jayalalithaa had dropped her guards they started singing the hit song.