For clashing with 'Kaabil' again, Rakesh Roshan fumes at 'Raees' makers
Filmmaker Rakesh Roshan has given fuming statements about 'Raees' makers for changing the release date of their movie again. Earlier, 'Raees' was supposed to release on January 26, a day after Rakesh Roshan's production venture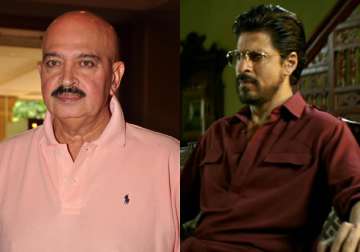 India TV Entertainment Desk
New Delhi
December 07, 2016 13:53 IST
Filmmaker Rakesh Roshan has given fuming statements about 'Raees' makers for changing the release date of their movie again. Earlier, 'Raees' was supposed to release on January 26, a day after Rakesh Roshan's production venture 'Kaabil' would hit theatres.
A few days ago makers of 'Kaabil' revealed that they would release the movie at 6 PM on January 25th. But now, 'Raees' will hit theatres on morning of 25th January.
This latest development has left Rakesh angry. Talking about this report to a leading daily, Rakesh said that they (Raees team) were just following his footsteps. He said that he wouldn't have ever done the same. Rakesh said he belonged to the old school of filmmaking so he doesn't understand this new concept of clash between releases.
"I would never release my film on a day when another filmmaker has already announced their film. I saw a clean window in January and hence I picked the date," said Rakesh.
Rakesh also cited the incident where in he shifted the release date of 'Krrish 4' to avoid clash with superstar Shah Rukh Khan's untitled project in Christmas 2018.
When asked to Rakesh if he too would advance the release timings of 'Kaabil' like 'Raees'; the ace filmmaker said it for his distributors to decide. He said that the release on 25th in the evening was full fledged one but now the distributors would take the call about going with the release from morning shows or not.
Clearly, Rakesh Roshan is not happy with the makers of 'Raees' for sabotaging his plans. Now that the clash is on; only the box office results will declare the winner.