My husband imagines Salman in incredible roles, says Kabir Khan's wife Mini Mathur
Former VJ Mini Mathur has said that her husband director Kabir Khan imagines superstar Salman Khan in incredible roles. She said Kabir manages to see the 'Bhaijaan' of Bollywood in stories no one has seen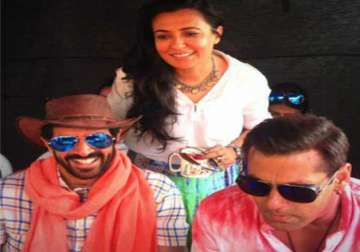 India TV Entertainment Desk
Mumbai
December 03, 2016 10:17 IST
Former VJ Mini Mathur has said that her husband director Kabir Khan imagines superstar Salman Khan in incredible roles. She said Kabir manages to see the 'Bhaijaan' of Bollywood in stories no one has seen him before.
Mini, dressed in a sari, spoke to media at a festive preview pop-up fashion show on Thursday here. The event was attended by actresses like Sana Khan and Huma Qureshi.
Salman and Kabir have worked in movies 'Ek Tha Tiger', 'Bajrangi Bhaijaan' and have teamed up once again for 'Tubelight'.
Telling how Kabir manages to convince Salman, Mini said that the latter agrees only if the story is good.
Mini said: "I feel story is the king. If Salman likes the story, he says yes immediately. If he does not like the story, then he won't agree at all."
The former "Indian Idol" host also shared about the experience of being wife of a director, who has made films like "Bajrangi Bhaijaan" and "Phantom".
She said: "A director usually discusses things about a film to his wife. Like, I am going to write it, I got the actors etc. I have been pretty much a part of it (a film)."
She added: "Kabir never makes a film thinking about awards or expectations. He will make what he wants to. I think only those films work which are made from the heart and without any expectations."
(With IANS Inputs)