Kamal Haasan's tweet mourning Jayalalithaa's demise draws flak
Amid a time of grief and anguish that has gripped Tamil nadu following the demise of its popular Chief Minister J Jayalalithaa, a tweet of condolence by a veteran actor has generated a backlash of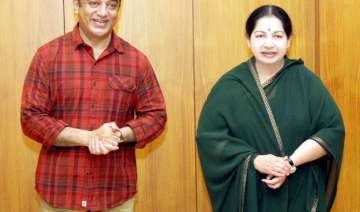 India TV Entertainment Desk
Chennai
December 07, 2016 20:48 IST
Amid a time of grief and anguish that has gripped Tamil nadu following the demise of its popular Chief Minister J Jayalalithaa, a tweet of condolence by a veteran actor has generated a backlash of sorts.
Tamil veteran actor Kamal Haasan took to Twitter to condole the death of 'Amma' and it had a tongue in cheek message for Amma loyalists and supporters.  
சார்ந்தோர் அனைவருக்கும் ஆழ்ந்த அனுதாபங்கள்.

— Kamal Haasan (@ikamalhaasan) December 6, 2016
Kamal Haasan's tweet in Tamil roughly translates to: "Deepest sympathies for all those who depended on her."
The twitterati were sufficiently speedy to respond to this and took to the online stage to express their "outrage ".
A portion of the tweets suggested that it was Haasan's own feud against Jayalalithaa after Ulaganayagan's Vishwaroopam was banned in Tamil Nadu, in 2013.
 Jayalalithaa was the head of All India Anna Dravida Munnetra Kazhagam (AIADMK), a Dravidian political party which had a deep-rooted ideology in atheism.
The six-time CM of Tamil Nadu and one of India's most charismatic political leaders, died after a bitter 74-day battle for life. She was 68.
Jayalalithaa suffered a massive cardiac arrest on Sunday evening and died late Monday. She was laid to rest withfull state honours on Tuesday evening at Marina beach, near the memorial of MG Ramachandran, her mentor and founder of AIADMK.
Here are some other Twitter reactions to Kamal Haasan's tweet:
what's the point in being well learned if there is no decency. Shame I used to be a fan of yours.

— Sashi (@sashank2k) December 6, 2016
exactly, basic manners should be there, hatred after death doesn't look good for the common man, @ikamalhaasan

— Medhavi2015 (@medhavi2015) December 6, 2016
ur not a great artist u just a self concerend person who lack heart and humanity .

— GAUTHAM KRISH (@gowthamkrishn11) December 6, 2016
.@Robo1235 @Rohitsuperfan @sashank2k @ikamalhaasan What a WHITE LIE!! He has given his condolences in the tweet.

— R (@BeingRidhima) December 6, 2016
You should have kept quiet instead of this bullshit tweet

— Venkat Narayan (@NaraShrav) December 6, 2016