Karan Johar becomes single parent to twins Roohi and Yash via surrogacy
Filmmaker Karan Johar has become the single parent of twins who were born through surrogacy last month.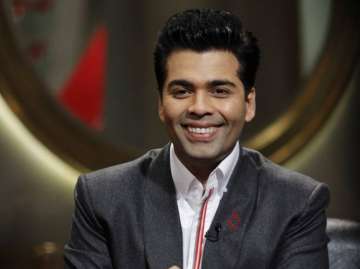 India TV Entertainment Desk
Mumbai
March 05, 2017 10:42 IST
Filmmaker Karan Johar on Sunday announced that he has become a father to twins via surrogacy while declaring that they are now his "world and priority."
The daughter has been named Roohi -- a rearrangement of Karan's mother's name Hiroo and the son has been christened Yash -- on Karan's late father's name.
According to a report by the Times of India, Brihanmumbai Municipal Corporation (BMC) executive health officer Dr Padmaja Keskar confirmed that the births of twins - a girl and a boy - were registered with its public health department on Friday.
The report said the twins were born at Masrani Hospital in Andheri (West) on February 7 but Johar hadn't yet informed the BMC about the names of his children.
March 5, 2017
In a statement today, Karan said: "I am ecstatic to share with you all the two most wonderful additions to my life, my children and lifelines; Roohi and Yash.
"I feel enormously blessed to be a parent to these pieces of my heart who were welcomed into this world with the help of the marvels of medical science."
The producer-director said, "This was an emotional yet well thought out decision which I have taken after considering all the responsibilities and duties that come with being a parent. In order to arrive at this decision, I have prepared myself mentally, physically, emotionally and logistically to ensure that my children get all the unconditional love, care and attention from me and mine."  
"I have submitted to the fact that my children are my world and priority. My work, travels and social commitments would have to take a back seat and I am prepared for that. By the grace of God, I have the most caring and supportive mother who will be an integral part in the up-bringing of her grandchildren and of course, friends who are family," Johar, best known for directing films like "Kuch Kuch Hota Hai" and "Kabhi Khushi Kabhie Gham,"  said. 
Karan also extended gratefulness to the surrogate.
"I am eternally grateful to the surrogate who has fulfilled my lifelong dream and provided a warm, loving and nurturing environment to my children before bringing them into this world. She will always remain in my prayers," he said. 
Karan also extended gratitude to IVF specialist Jatin Shah, who was also instrumental in the successful birth of supersar Shah Rukh Khan and his wife Gauri's son AbRam who was also born through surrogacy.
"Finally, a big thank you to Dr. Jatin Shah for his guidance and support and for being like a family member through this wonderful and exciting journey," he said. 
In his book "An Unsuitable Boy", Karan had expressed a desire to adopt a child or opt for surrogacy. He had also opened up about his sexual orientation and accepted that he was homosexual. 
During the launch of the book in January, Karan Johar had said that he would like to be a parent someday. 
"I would like to be a parent. I don't know in what capacity, I don't know how it's going to happen, I don't have answers to those questions. But I do feel the need because I have love to offer," he said. 
In June 2016, actor Tusshar Kapoor had also become a single parent of a baby boy who was born through in vitro fertilization (IVF) and surrogacy.
Soon after, the government came with a proposed legislation which completely banned commercial surrogacy. The bill was introduced in the Lok Sabha but the Rajya Sabha Chairman referred it to the Parliamentary Standing Committee on health and asking it to submit report within three months.
Under this bill, homosexuals, single parents, and live-in couples are also not entitled for surrogacy. Also couples who already have children will not be allowed to go for surrogacy, though they would be free to adopt a child under a separate law.
It proposes complete ban on commercial surrogacy, but altruistic surrogacy will be permitted for needy infertile couple under strict regulation. The bill entitles only Indian citizens to avail surrogacy. Foreigners, NRIs and PIOs are not allowed to seek surrogacy in the country.
The proposed legislation also seeks to protect women from exploitation and ensure the rights of the child born through surrogacy.
With no law governing surrogacy, India has emerged as a surrogacy hub for couples from different countries. There have been incidents concerning unethical practices, exploitation of surrogate mothers and children born out of surrogacy being abandoned.