Karan Johar targets Kangana Ranaut, says if the industry is bad 'leave it'
Filmmaker Karan Johar, who is rejoicing his fatherhood, recently reacted on actress Kangana Ranaut's comments on 'Koffee With Karan' and said that if the lady thinks that the film industry is bad then she should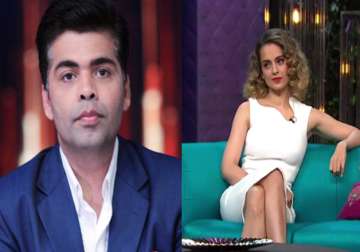 India TV Entertainment Desk
New Delhi
March 06, 2017 15:45 IST
Filmmaker Karan Johar, who is rejoicing his fatherhood, recently reacted on actress Kangana Ranaut's comments on 'Koffee With Karan' and said that if the lady thinks that the film industry is bad then she should leave it.
Few days back, Kangana called the filmmaker, the flag bearer of nepotism in Bollywood on talk show 'Koffee With Karan'.
While speaking at an event, Karan Johar said that that was the platform of the actress to speak, and now this is his platform to express his views. He targeted the actress and said that you cannot act like a victim and tell sad story about being terrorised in the industry. He further added that if the actress find the industry bad then she should leave it.
Karan Johar said, "I am done with Kangana playing the woman card and the victim card."
It all started when the National Award winning actress graced the 'Koffee With Karan' with his 'Rangoon' co-star Saif Ali Khan. She said that in her biopic Karan will play the B-town snooty, and also called him the flag bearer of nepotism who was intolerant to outsiders. After the episode was aired, the actress was applauded for her bold statements.
Though, Karan Johar took it sportingly on the show, but it seems that now he is expressing his views whenever he gets the chance.
Now, as Karan has said these things about the actress, it is yet to see if Kanagana Ranaut gives it back to the director.