Lisa Haydon is going to be
Lisa Haydon is going to be the 'Sexiest' mom in Bollywood, proves pictures
India TV Entertainment Desk
Mumbai
08 Mar 2017, 19:09:09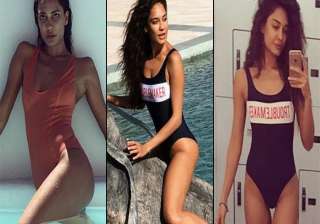 It wasn't long since Beyonce broke the internet with her pregnancy announcement. But before that, our very own beauty Lisa Haydon took her fans by surprise by posting her pregnancy pics in style.
The Queen actress posted a picture of herself in a bikini, flaunting a baby bump on Instagram in January. She announced the new chapter in her life in utter panache. And ever since then, the yummy mummy-to-be has been setting new pregnancy goals for all the moms-to-be. If you scroll through her Instagram account, you will see how the expecting mother is rejoicing every bit of her pregnancy with her husband, Dino Lalvani.
Last month she was untwining herself in Phuket. She didn't forget to treat her fans with some gorgeous pictures of her exotic holiday and above all, she didn't shy away from showing her pregnancy bump in those bikini pictures.
It seems like the new mom-to-be is enjoying every bit of her life with her girl pals and making the most of her life. Lisa's pregnancy diaries are as droolworthy as her wedding diaries were.
Last year, Lisa tied the knot with her long-time boyfriend, Dino Lalvani in a dreamy wedding. Lisa's husband Dino is the son of Gullu Lalvani, a Pakistan-born British entrepreneur.