Maanyata on Sanjay Dutt's jail term: Shahraar and Iqra should know that their father was wrong
Bollywood actor Sanjay Dutt recently made a comeback on silver screen through his film Bhoomi.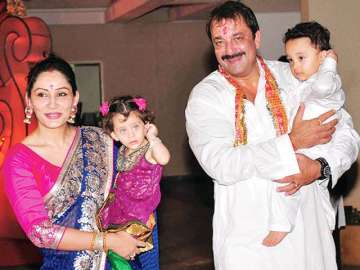 Written by: India TV Entertainment Desk
New Delhi
November 14, 2017 18:04 IST
Sanjay also served a jail term for years and was bound to stay away from their little twins Shahraar and Iqra. But Sanjay's wife Maanyata, who is always by his side during all the ups and downs of life, said that she wants her kids to be aware of their father's past. 
In an interview with HT Brunch, Maanyata said, ''They are still too young to understand what happened. Shahraan's dad is his hero, his role model, he idolises him. I worry about two things. First, it could be too much of a shock for him; he might not be able to justify what had happened or understand why it happened. Second, he might start thinking whatever his dad did back then was cool. We don't want either to happen.''
She further added, ''They should know that their father was wrong and he has paid a heavy price for that. Not many people would have the courage to own up to what they had done and face the consequences. I want them to understand how it happened, why it happened, and how Sanju took it in his stride. But they are still too young for all that and we don't want to burden their childhood.''