MOM Trailer 2: Movie is going to be a merciless battle between Sridevi and Nawazuddin Siddiqui and we're up for it!
Mom Trailer 2 is full of suspense and hair-raising moments just like the first part of the trailer.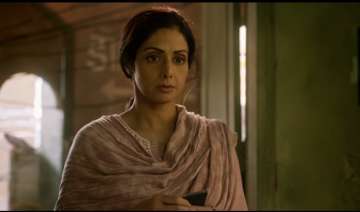 India TV Entertainment Desk
New Delhi
June 23, 2017 13:58 IST
Just like the first part of Sridevi-starrer Mom trailer, the second one leaves a lot of pondering behind. Similar to the previous one, this part of the trailer series leaves many question unanswered. The one-minute trailer starts with a cold exchange between mother Sridevi and her daughter, where the teenager refuses to be her daughter. In the previous part of trailer as well, a lot of guesswork was going around whether Sajal Ali is Sridevi's daughter in the movie or not. The rift between the mother-daughter duo is evident in the second part as well. 
M⭕️M Trailer2 @SrideviBKapoor @Nawazuddin_S @arrahman @ZeeStudios_ @MomTheMovie pic.twitter.com/zvZp24D3BD

— Ravi Udyawar (@raviudyawar) June 23, 2017
What is noteworthy in both the trailer is the character of Nawazuddin Siddiqui. The ace-actor is nearly unrecognisable, owing to his guise and jagged teeth. The eerie background score, a vengeful mother, seeking to go through anything to avenge something wrong happened to her daughter and inscrutable Nawaz makes the movie worth the wait. 
Also Read: Mom Trailer: Sridevi-starrer speaks volumes about a distressed mother without many words
Nawazuddin Siddiqui can be seen in a never-before avatar as Dayashankar Kapoor or DK in short. He claims to prophesise people's future from their ashes. Akshaye Khanna can be seen as a baddie yet again after his last venture 'Dishoom'. The background score of the trailer sounds riveting and manages to create an air of suspense for a couple of minutes.
The second part of the trailer stresses on a line: 'Nobody knows what a mother is feeling'. The Director of the film, Ravi Udyavar shared the trailer on his official Twitter account. The film is slated to hit the silverscreens on 7th July 2017.