Nothing wrong with Ranveer's butt-show in 'Befikre': Pahlaj Nihalani defends decision
Known for running his scissors on the most unassuming of film scenes, controversial chief of the Central Board of Film Certification Pahlaj Nihalani has defended his stand on allowing actor Ranveer Singh's 'butt-show' to stay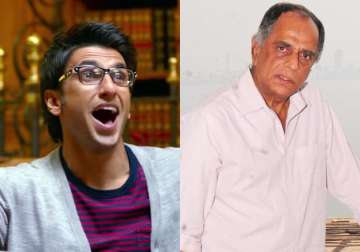 India TV Entertainment Desk
New Delhi
December 13, 2016 16:44 IST
Known for running his scissors on the most unassuming of film scenes, controversial chief of the Central Board of Film Certification Pahlaj Nihalani has defended his stand on allowing actor Ranveer Singh's 'butt-show' to stay in the latest release 'Befikre'.
Speaking about his decision, Pahlaj clarified that he had shortened the 'butt shot', adding that there was nothing wrong in it.
In one of the scenes from the Aditya Chopra directorial, Ranveer's character Dharam bared it all. After the movie was released, there were many debates on how the scene was allowed when the CBFC had resorted to chopping scenes from flicks due to petty reasons in the past.
But seems CBFC chief Pahlaj Nihalani has an explanation for that as well. Getting into a defensive mode, Nihalani said that the movie just has a glimpse of Ranveer's butt.
"He is alone with his girlfriend in a room. They are doing what couples do when they are alone. Why is a butt shot objectionable? We've allowed butt shots in some recent Hollywood films. Also in Madhur Bhandarkar's Jail," Pahlaj told the daily.
Pahlaj further said that he allowed the frequent kisses in 'Befikre' because the script demanded it. He said he couldn't give the same treatment to lip locks in movies 'Ae Dil Hai Mushkil' and 'Tamasha' because the kisses were done in lengthy shots.
"See, unlike Ae Dil Hai Mushkil , Spectre or Tamasha where the kisses were done in lengthy shots, in Befikre the kisses are scattered and largely fleeting and all over the place," Pahlaj added.
The chief added that being a filmmaker himself, he understands that the kisses were a part of narration hence had to keep them.
"If we removed the kisses we'd be hampering the storytelling," he justified.
This decision and justification by Nihalani couldn't pacify some from the film industry, with a film critic pointing to the arbitrariness of the board.
 The critic said that if Nihalani was okay with kisses in Paris (since 'Befikre' is set in the love capital of the world); he could well have allowed the lip lock between James Bond and Monica Bellucci in 'Spectre' be as it is.