Priyanka Chopra replaces Dwayne Johnson and placed No.1 on Top Actors chart
Priyanka Chopra has replaced her baywatch co-stars Dwayne Johnson and grabbed first position on Top Actors charts.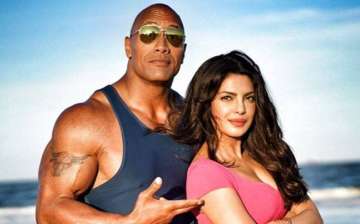 India TV Entertainment Desk
New Delhi
June 15, 2017 14:31 IST
Desi girl Priyanka Chopra, who has turned a global star, beating her Baywatch co-stars Dwayne Johnson and Zac Efron, has taken the top spot on Top Actors chart.
A week after ranking on The Hollywood Reporter's inaugural Top Actors chart at No.2, Actress-producer Priyanka replaced Johnson atop the newest tally. The Top Actors chart is a ranking of the most popular actors on Facebook, Instagram, Twitter, YouTube and Google Plus, with global data provided by social media analytics company MVPindex.
The chart's methodology blends social engagement on the platforms along with weekly additions of followers/subscribers. The latest tracking week ended on June 6.
Priyanka, who shot to fame in the US with the show Quantico, rises 2-1 on the chart, gaining in multiple metrics, including 98 per cent in Twitter mentions in the tracking week, reports hollywoodreporter.com. Johnson and Efron rank at numbers 2 and 9, respectively.
(With IANS Inputs)