Rajnikanth's daughter Aishwaryaa R Dhanush trolled for her awkward performance at UN
Aishwaryaa Rajnikanth Dhanush, who is the UN's Women's Advocate for gender Equality and Women's Empowerment in India presented a classical dance performance at the Women's International Forum on International Women's Day. Megastar Rajnikanth's daught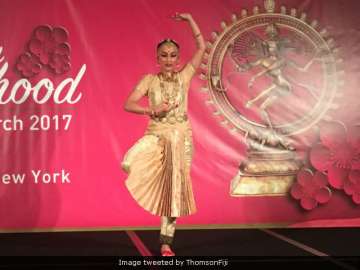 India TV Entertainment Desk
New Delhi
March 11, 2017 11:38 IST
Aishwaryaa Rajnikanth Dhanush, who is the UN's Women's Advocate for gender Equality and Women's Empowerment in India presented a classical dance performance at the Women's International Forum on International Women's Day.    
Megastar Rajnikanth's daughter, Aishwaryaa's Bharatnatyam dance video is going viral on the internet and she was heavily trolled for her awkward performance at the International platform. 
There was much outrage among twitterati for her classical dance performance. Some wrote that she has insulted the popular dance form and the state Tamil Nadu as well.
she is very insult tamilnadu national dance barathanatiyam

— gowthamanjali (@gowtham53572957) March 11, 2017
Few went a step ahead and wrote that it was only her political affiliation that has given Rajnikanth's elder daughter Aishwaryaa such a high platform, which should have gone to better dancer.
Namaste - the highest in me recognizes the highest in you. Celebrating womanhood at the @UN in #Indian dance today. pic.twitter.com/xwEuKX5CYV

— Peter Thomson (@ThomsonFiji) March 9, 2017
The most insulting reaction of one of her twitter follower was, when she posted a video of vomiting on to the dance performance of Aishwaryaa. 
@ash_r_dhanush @UN pic.twitter.com/20gCvkmeFy

— selvaa v. (@vkselvaa) March 10, 2017
One of her twitter follower, wrote it is nepotism and only her political connection, which gave her such a big platform. 
Notably, in her video Aishwaryaa can be seen performing the dance moves quite passionately, but her steps are hardly matching the tunes and the classical dance form.    
Here are few more twitter reactions
@ash_r_dhanush @UN WWW...world worst dance in women's day... HISTORY..

— Vijegavidev (@vijikku) March 10, 2017