Ram Gopal Varma apologises for sexist tweet on Sunny Leone
Filmmaker Ram Gopal Varma, who was in headlines for his nasty tweets on porn-turned-actress, Sunny Leone on International Women's day, has finally stated his apology through a new tweet. The derogatory tweets of the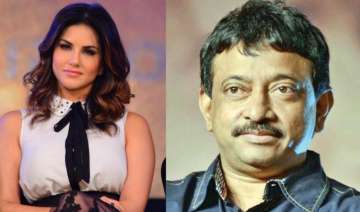 India TV Entertainment Desk
New Delhi
March 10, 2017 11:03 IST
Filmmaker Ram Gopal Varma, who was in headlines for his nasty tweets on porn-turned-actress, Sunny Leone on International Women's day, has finally stated his apology through a new tweet.
 
The derogatory tweets of the RGV landed him in trouble after a women's organisation filed a police complaint against him. The complaint said Varma has gravely insulted women with his tweet. 
Ranragini, which has affiliation to Hindu Janajagruti Samiti, filed a complaint with Mapusa police with its local office-bearer Vishakha Mhambare demanding that Varma be booked under Cyber laws and section 292 of IPC. 
Varma, who is not new to social media feuds, had tweeted on Women's Day, "I wish all the women in the world give men as much happiness as Sunny Leone gives." 
Facing criticism, the filmmaker apologised today saying he was "just expressing my feelings". 
He wrote, ''Was just expressing my feelings but I apologise to all who were offended due to my unintended insensitive tweets in context of women's day.''
In another tweet the director wrote, ''My apology is only to those who genuinely got offended and not to those who ranted for publicity nd threatened to take law into their hands.''
Earlier in the day, the director also got into a war of words with NCP MLA Jitendra Awhad on Twitter. Awhad asked Varma to apologise or "face the consequences, we don't mind taking law in hand (sic)." 
To which, the director replied, "If you don't apologise tothreat of taking law into your own hands, will formally register complaint, so let me know. Please note." 
Meanwhile, Congress too demanded that the Maharashtra government and State Women's Commission file an FIR against the filmmaker for his "sexist" remarks.
(With PTI Inputs)