Salman to launch 'Being Human' fashion jewellery on his 51st birthday
It seems that on his birthday superstar Salman Khan is giving gifts to all his fans. The actor, who will be turning 51 tomorrow, will launch the range of Being Human fashion jewellery as his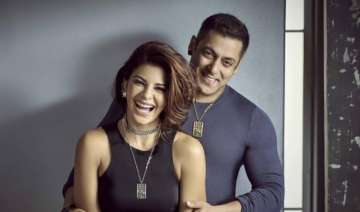 India TV Entertainment Desk
New Delhi
December 26, 2016 18:25 IST
It seems that on his birthday superstar Salman Khan is giving gifts to all his fans. The actor, who will be turning 51 tomorrow, will launch the range of Being Human fashion jewellery as his brand has tied up with Style Quotient Jewellery Pvt. Ltd.
"Being Human is a brand with a soul, and with this association, we are moving to the next step of expansion. People have always given me and Being Human tremendous love and I hope we continue to receive it in the days to come," Salman said in a statement.
The design philosophy of the brand embodies a perfect balance of Salman's unique style and International fashion trends. Sixty five per cent of the jewellery will cater to women with collections like Boho, Metal Faith, Tassel and Bling while 35 per cent of the men's range will comprise of Being Human Value collection and Funk collection.
The design that comprises of rings, earrings, neck pieces and bracelets will cater to everyday wear and has been priced from Rs.150 to Rs.3000.
The jewellery will be catering to young audiences of 15-25 years.
"We have worked very closely in the past with Salman Khan and the association has been a gratifying and joyous one. Salman Khan represents modern-day India and has a huge global and mass appeal. His presence will boost our brand equity and will assist us to move effortlessly into national and international markets," said Prasad Kapre, the CEO and Director of Style Quotient Jewellery Pvt Ltd.
(With IANS Inputs)