Sanjay speaks on his biopic, says he is not nervous
Actor Sanjay Dutt, who is currently shooting his comeback film 'Bhoomi', said that he is not nervous about his upcoming biopic which is being helmed by filmmaker Rajkumar Hirani as his life is an open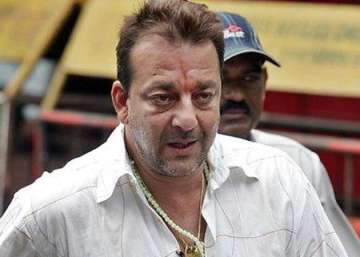 India TV Entertainment Desk
New Delhi
March 05, 2017 18:50 IST
Actor Sanjay Dutt, who is currently shooting his comeback film 'Bhoomi', said that he is not nervous about his upcoming biopic which is being helmed by filmmaker Rajkumar Hirani as his life is an open book.
The 'Munnabhai' actor, who is looking forward to the film was all praises for young stars Ranbir Kapoor, Ranveer Singh, Varun Dhawan and Alia Bhatt. Ranbir will be seen as the protagonist in the biopic.
"I'm not nervous about anything... Don't you all know about my life? And my things are out in the open. Bhushan (Kumar) is a big part of that film. I've just given my story and I've been with Rajkumar Hirani (while he was writing the film)," Dutt told reporters.
Talking about the new age actors, Dutt is all praise for Ranbir Ranveer, Varun and Alia for the way they are handling their career in Bollywood.
"I like Ranbir and Ranveer. Varun has also done some good work. These young boys and girls are really doing well. Alia is amazing. They work professionally and they perform well."
The actor says he chose Omung Kumar's revenge drama as his comeback film over a sequel because he appreciates good cinema.
"All my life I've been doing films which are original. I appreciate that people are recognising and appreciating that we're doing a film which we have thought about, we've written and is a film of a common man."
Dutt says he does not regret missing out on big budget films released in the last few years as he has worked in almost every genre.
"I have done every genre possible. I don't regret anything nor do I want to be a part of any other film. But yes, I do appreciate good cinema and good performances. It's only good for our industry that all the films should do well. Our industry should grow like that."
He may have served years in jail for being convicted in Arms Act but fans and the entire film fraternity have always loved him and wanted his comeback in Bollywood. Dutt says it is because of his grounded nature.
"I have been taught to be a good human, to respect people and be grounded no matter how big a person you become. That's what I've been taught by my parents."
The actor, who was convicted in the 1993 Mumbai serial blasts case, had served a 42-month sentence at Pune's Yerwada jail. He was released on February 25 last year, 103 days ahead of his prison term.
"I also want to clear that the tag of 'deshdrohi' (traitor) has been dismissed by court and I was proved innocent in that case. I was only convicted in Arms Act."
(With PTI Inputs)