Sara Tendulkar finds Sachin and Anjali's romance in biopic cute
Sachin: A Billion Dreams has hit the silver screen worldwide today and Sachin's daughter Sara Tendulkar is all praises for her parents, who can be seen romancing in the biopic.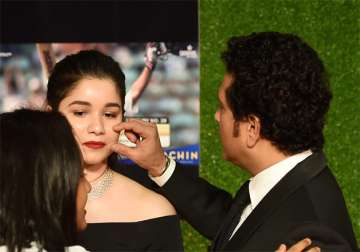 India TV Entertainment Desk
New Delhi
May 26, 2017 14:26 IST
Sachin: A Billion Dreams has released worldwide today and Sachin Tendulkar's daughter Sara Tendulkar cant keep calm. She is all praise for her parents, who can be seen romancing in the biopic. Sara said that the romance between her parents Sachin and Anjali was her favourite part of the film.
Sara said she thoroughly enjoyed watching her father's journey on the big screen in the film "Sachin: A Billion Dreams", which will hit the theatres tomorrow.  A grand premiere of the biographical drama was held in Mumbai last night. 
"Growing up I never really understood the magnitude of the personality that is Sachin Tendulkar... For me he was always my father and it was just simple. After watching the movie, it has made me truly understand what everyone else thinks of him," Sara said in a statement here. 
"My favourite part of the movie is where they speak about my parents meeting and the whole romance which I think is cute. Also, their wedding scene is really nice," she said. 
The biopic is based on the life of the 44-year-old cricket legend. The film, directed by Emmy-nominated James Erskine, chronicles the iconic sportsman's journey in the field of cricket and personal life. 
Several Bollywood celebrities like Shah Rukh Khan, Aamir Khan, Amitabh Bachchan, Abhishek Bachchan, Aishwarya Rai, Ranveer Singh, Sushant Singh Rajput, Kabir Khan and Anil Kapoor, among others, attended the grand premiere. 
Industrialist Mukesh Ambani and wife Nita, Tendulkar's son Arjun, daughter Sara and his in-laws were also seen at the premiere.
(With PTI Inputs)