Sathyaraj, man who played Katappa, revealed why he killed 'Baahubali'
Actor Sathyaraj who portrayed the character of Katappa in 'Baahubali' revealed that he killed Baahubali because director S. S. Rajamouli asked him to do that. The actor said that the fact that everybody keep asking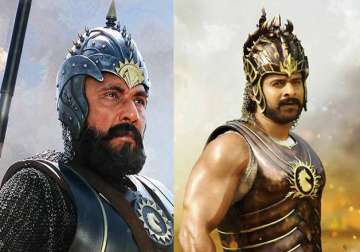 India TV Entertainment Desk
New Delhi
March 08, 2017 17:40 IST
Actor Sathyaraj who portrayed the character of Katappa in 'Baahubali' revealed that he killed Baahubali because director S. S. Rajamouli asked him to do that. The actor said that the fact that everybody keep asking him the reason why Katappa killed Baahubali didn't annoy him.
While talking in an interview, when the actor again encountered the question that 'Why Katappa killed Baahubali', he intelligently answered it and said, "Because my director told me to."
The actor who is gearing up for the release of second instalment of the film 'Baahubali: The Conclusion', revealed that he didn't get annoy by the question. He further added that he has not told about it to his family as he considered it unethical to disclose important part or climax of the story.
He said, "I have not even told my family about it. I have been in the industry for over 40 years. It is not ethical to reveal climax or the crucial part of the story."
Talking about his character Katappa, Sathyaraj said that he was always sure that his character will become famous, but it made him extremely happy when, during the time of demonetisation, memes on it were circulated on social media.
The first part of the 'Baahubali' series not only performed good at the box office but also won the National Award for Best Feature Film.
'Baahubali: The Conclusion' also features Prabhas, Tamanna Bhatia, Rana Daggubati in pivotal roles. The movie is slated to release on April 28.