Can't keep calm: Shah Rukh and Aamir set to share stage soon, details here
It is a rare sight that superstars Shah Rukh Khan and Aamir Khan come together. One of these rare occasions is all set to happen on December 17. Reports have it that the two superstar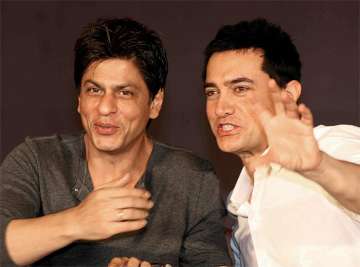 India TV Entertainment Desk
New Delhi
December 10, 2016 15:41 IST
It is a rare sight that superstars Shah Rukh Khan and Aamir Khan come together. One of these rare occasions is all set to happen on December 17. Reports have it that the two superstar Khans will share stage for an event.
Details about the event that have been doing rounds of media suggest that SRK will host the show and Aamir will come on stage to rap a song from his upcoming film, 'Dangal'.
Speaking about these plans, Aamir told a daily that he felt the song was apt for the occasion. He added that he has crooned the song and has shot especially for the event.
"We have shot it especially for that event and not as part of the 'Dangal' OST. I really enjoyed Dhaakad and will be singing it in its entirety," said Aamir.
It would definitely be a treat for viewers if they get to see SRK and Aamir share camaraderie on stage.
Though, Shah Rukh meets the other Khan- Salman, often, catching up with Aamir doesn't happen frequently. While speaking about the long gaps between their meetings, Shah Rukh had in a recent interview revealed the reason. He had said that Aamir follows a strict routine.
"He is like '9 Baje Soo Jaunga, Main Nai Aaunga' so we don't meet that often," Shah Rukh had said.
But looks like the meeting is finally happening and not behind closed doors. SRK and Aamir will come together for the world to see, very soon.