How Rahul Dholakia got only 10 minutes from SRK for narration of 'Raees'
The trailer of superstar Shah Rukh Khan's 'Raees' will be released tomorrow easing the anxiety of his fans who have been waiting for it desperately. But do you know that director Rahul Dholakia was given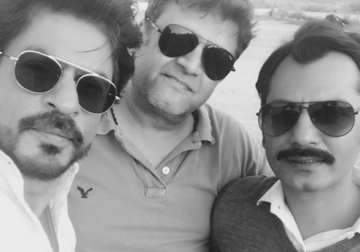 India TV Entertainment Desk
New Delhi
December 06, 2016 15:46 IST
The trailer of superstar Shah Rukh Khan's 'Raees' will be released tomorrow easing the anxiety of his fans who have been waiting for it desperately. But do you know that director Rahul Dholakia was given only 10 minutes by the superstar for narration?
This trivia about the movie was revealed by Rahul in one of his recent interviews. He said that since he didn't know how to approach SRK for the role, so he took director-producer-actor Farhan Akhtar along with him.
On reaching Shah Rukh's residence, Farhan and Rahul found out that he was on his way to an award function abroad. King Khan gave Rahul 10 minutes to pitch the first narration to him.
It so happened during the narration exercise that SRK was awed by the story. The 10 minutes allotted became 45 and the superstar wanted to know the rest of the story. He assured Rahul that he would essay the role of Miyan Bhai in the movie.
During course of the conversation, SRK quizzed Rahul on why he thought the former fit the bill. To this the 'Parzania' director said it was only dialogue of the movie that let him believe SRK was perfect. To this, the 51-year old star was quick enough to point the dialogue would have been, 'Baniye ka dimag aur miya bhai ki daring'.
Rahul added that all he could do then was be amazed by SRK's power to grasp the role.
The director went on to say that if cine buffs wish to see SRK in his trademark style in 'Raees', they would be disappointed. He said SRK would lift his hand in 'Raees' only to slap someone.
Trailer of the highly-awaited movie will be released tomorrow, wherein Shah Rukh himself will interact with a live audience. It will be live streamed across 3,500 screens in nine cities. The movie will release on Janury 26, 2017.