Shah Rukh Khan speaks his heart out on Ted Talk & we can't agree more!
If you're a true SRK fan, then this video is not worth a miss! Shah Rukh Khan wins hearts at TED Talks.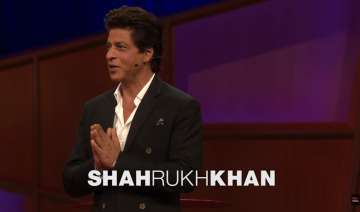 India TV Entertainment Desk
New Delhi
May 11, 2017 18:51 IST
Shah Rukh Khan has always been a charmer, be it for his graceful moves or his speaking eyes. He has never failed to enthral his audience with his modesty and quick-wit. Shah Rukh Khan took to Twitter to share his words on humanity, love and fame. 
SRK took part in the prestigious event in Vancouver last month and enchanted the crowd with his easy-going oratory skills. Being in his usual witty demeanour, he shared his personal and profession stories. He surprised the crowd with his trademark 'lungi' dance, cracked jokes on himself and even put his insecurities at display. 
He sends out a deep message that only the love has the power to change the world into a better place. 
I truly believe humanity is a lot like me... it's an ageing movie star grappling with all the newness around, wondering whether it got it right in the first place and still trying to find a way to shine on regardless.
If you're a true SRK fan, then this video is not worth a miss! Truly King Khan was an enchanter at the prestigious event of TED talks.