Govt must take action against those who issue threatening fatwa, Singer Sonu Nigam tells Aap Ki Adalat
Following his tweets over 'azaan', the singer shaved off his head dramatically in Mumbai after a Kolkata moulvi issued a fatwa offering to pay Rs 10 lakhs to anybody who could shave his head and garland him with shoes for insulting Islam.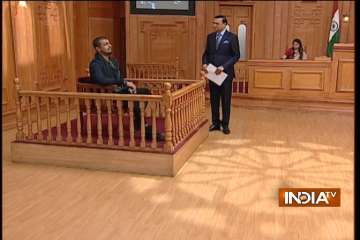 India TV Entertainment Desk
New Delhi
May 06, 2017 16:38 IST
Singer Sonu Nigam has demanded that the government must take action against those who issue death threats in the form of 'fatwa'.
The singer, who was recently embroiled in a big controversy over his tweets against use of loudspeaker at odd hours during 'azaan', said: "I have full faith in God, who is omnipresent and all-pervading. But I don't like this mentality, when any one issues fatwa against any other person, saying cut off his hair, kill him. There was a fatwa offering to pay Rs 51 crore for cutting off my head.
Also Read: Also Read: This is what news channels will flash after Sonu Nigam's death, according to the singer himself
"In my view, the government must do something about this. We live in a civilized and democratic country. We are a republic.  How can we allow such things like fatwa? I am also against lynching of people by Gau Rakshaks. I am totally against them. I don't like gundagardi (hooliganism) in any form. You can't go in a group of 12 people and threaten a family in the name of religion. Such things should not happen in our country. We are all doing well, actually. We are doing very well these days. This is not a political statement, but I believe 'achhe din aa rahe hain' (good days are coming)."
Sonu Nigam was replying to questions from Rajat Sharma in the show 'Aap Ki Adalat' to be telecast tonight on India TV. 
Asked by Rajat Sharma whether he would be getting a Rajya Sabha ticket from BJP, Sonu Nigam replied: "I do not have any contacts with politicians. Neither do I invite them, nor any body comes to my house, nor do I get any phone calls from them. I am happy in my world. I don't visit any politician's house. Yes, I do have contacts with (AAP leader) Kumar Vishwas, but he is a poet, and he wants me to sing his songs. I am neither aligned with any political party, nor any organisation. I do charity work quietly, and I do not boast."
Asked whether he ever felt leaving India and settle abroad, Sonu Nigam replied: "Sometimes I did feel I should go away, but then I realized, one should go within. There is no country in the world where you'd find 100 per cent things okay, there are shortcomings everywhere. 
"I stayed in the US for some years, I found some things were good over there, but you will never find in the US the warmth that you find in India. The warmth, when at 11 pm in the night, you ring up your friend and say I am coming over to your house. You can do that only in India. In US, you have to take appointment even if you want to meet your father.  India is my country, I was born here for some reason or other. I have to stay here, and love my country. When I feel alone, I however go inside my own shell."
Following his tweets over 'azaan', the singer shaved off his head dramatically in Mumbai after a Kolkata moulvi issued a fatwa offering to pay Rs 10 lakhs to anybody who could shave his head and garland him with shoes for insulting Islam. 
Sonu Nigam clarified that his tweets were against the use of loudspeakers at odd hours, and not against 'azaan' only. "I had mentioned azaan, aarti, gurbani too in y tweets."
Asked who he was to question use of loudspeaker for azaan, Nigam replied: "It's not me, it's the Supreme Court, which ordered in 2013 that nobody can use loudspeakers at odd hours. There was a time, when we used to do two music shows throughout the night, but for the last several years, we cannot do music shows after 10 pm. We however do music shows inside banquet halls or stadiums, away from residential areas, after taking permission."
"If you understand correctly, I have a social message to give, not a religious message."
When Rajat Sharma pointed out that he had praised UP chief minister Yogi Adityanath at an event in IIT Kanpur 15 days before his controversial tweets, Sonu Nigam replied: "Had it been so, why should I've mentioned temples in my tweets. I mentioned temples, gurudwaras. It means I have no bad intentions. Near my home, I don't have a temple. Had it been so, I'd have mentioned about that too."
On rival singer Mika's remark that Sonu Nigam should change his residence, the singer, with a deadpan expression, asked: "Kaun Mika?"  (Mika Who?)
Sonu Nigam narrated an interesting incident at the 2004 National Film Awards function, where he sported the APJ Abdul Kalam-type haircut, and went up to collect the Best Playback Singer award from the then President Abdul Kalam. 
"The moment I went up to him, he looked at me. I told him: Sir, same hairstyle! and he replied 'copyright, copyright'. It was then I knew that I had to fight a copyright issue too."
The singer went on to reveal that it was director-choreographer Farah Khan, who had advised him to sport the rebonded hair style. 
"Farah Khan was then in love with Shirish Kunder, and I was part of Indian Idol Part One. She told me Shirish was having rebonded hair, and I should also have one. So, in the first season, my hair was curly and then it was straight. It was Alim (hairdresser) who straightened my hair. He did the rebonding, and I never knew that I was to go and collect the National Award."
Singer Sonu Nigam in Rajat Sharma's show Aap Ki Adalat will be telecast tonight at 10 pm. The repeat telecast will take place on Sunday at 10 am and 10 pm.