SRK, Salman deserve to be kicked: RGV trashes superstars after watching Aamir's Dangal
Superstar Aamir Khan's latest release 'Dangal' has swept almost everyone off their feets. Riding on tremendous word of mouth, the Aamir Khan starrer is creating havoc at the box office. In its five-day run, the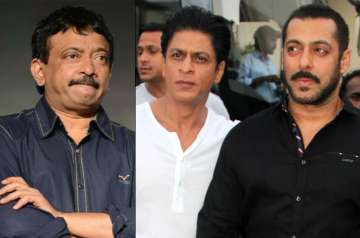 India TV Entertainment Desk
New Delhi
December 28, 2016 20:46 IST
Superstar Aamir Khan's latest release 'Dangal' has swept almost everyone off their feets. Riding on tremendous word of mouth, the Aamir Khan starrer is creating havoc at the box office.
In its five-day run, the movie has minted over Rs 150 crore at the box office and there are no signs of slowing down.
Like many, filmmaker Ram Gopal Verma too went in to experience the cinematic gem and was left awe struck.
An overwhelmed RGV then took to Twitter to express his love for the biographical sports drama and Mr Perfectionist.
He wrote, "Just saw Dangal and zapped with Aamir's belief in Indian audience's intelligence that they can make such a niche idea into such a massive film."
"Want to touch Aamir's feet for his ever growing sincerity which was always there but it impossibly seems to be growing taller and taller," he added.
While he poured in praises for Aamir, he seemed angry with superstars Shah Rukh Khan and Salman Khan.
His appreciation for Aamir and his films took him to criticize the other Khans for their choices in movies.
His posts had some abusive words too. Read here:
RGV has been in news several times for his infamous tweets.